Your stimulus check is coming soon, here's how to prepare
Congress passed the Coronavirus Aid, Relief, and Economic Security (CARES) Act, which provides stimulus checks to help stimulate the economy, and provide financial relief. The Treasury Department and the Internal Revenue Service (IRS) are now distributing checks by direct deposit and mail. Here's what you need to know to ensure you receive your check, and how to make the most of your money.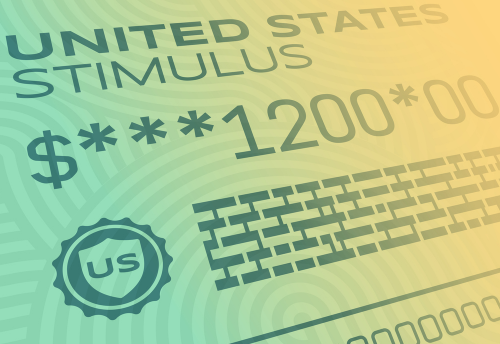 How Do I Get My Check?
These checks distribute automatically, and requires no action for most people. The IRS will use information in your 2019 tax return to calculate your payment, and use the information in your filing to mail or direct deposit your check. If you haven't filed your tax return for 2019, the IRS will use information from your 2018 tax filing to calculate the payment.
Taxpayers who typically do not file returns will need to submit a simple tax return to receive the economic impact payment. Visit the IRS Non-Filers website to learn more about how to receive payment. https://www.irs.gov/coronavirus/non-filers-enter-payment-info-here
If your direct deposit account information changed, either the IRS will mail you a paper check, or you can update your direct deposit information via the Treasury Department.
You can also track your stimulus payment at https://www.irs.gov/coronavirus/get-my-payment
For more information about Stimulus Checks, please visit the IRS website at https://www.irs.gov/coronavirus/economic-impact-payments
What Should I Do With This Money?
The purpose of these checks is to stimulate the economy, but it also might be a good idea to consider these options:
Budget and Cover Necessary Expenses – Now is a good time to evaluate your budget, and use this check to help cover your essentials expenses over the next few months. That includes the daily expenses that are required to get by, like cost of living, transportation, and food. This is also a good opportunity to evaluate your spending, and ensure you're making the most of your money. If you don't need to spend your payment, it's best to save as much as possible.
Build Your Emergency Fund – Whether you're currently working, or not, this check is a good opportunity to increase your savings. Financial experts recommend saving money to cover three months of essential expenses, such as rent and food. One way to build and truly maximize an emergency fund is to open a high-yield savings account. That allows you to earn from your existing savings, ultimately building your emergency fund even more.
Pay Off Debt – Now is a good time to pay any outstanding debts that you may have accrued. Your stimulus check can help minimize your debt, and remember it's best to pay off the highest interest rate debt first, to decrease any interest you're paying. Paying off loans is a smart decision, but your credit cards typically have higher interest rates, making them ideal to pay off right now.
Support Local Businesses – If you're in a financial position to help support your local businesses, it's helpful to use your stimulus check to support local businesses, and stimulate the economy. It can be a good time to find great deals.
If you're needing a little help deciding how to best spend your stimulus check, make sure to check out our handy calculators. Here's just a few that can make the decision easier:
For Frequently Asked Questions about Stimulus Payments, please visit https://www.jefferson-bank.com/cares-act-stimulus-checks-faqs/.
Sources:
https://www.irs.gov/newsroom/economic-impact-payments-what-you-need-to-know
The information provided in these articles is intended for informational purposes only. It is not to be construed as the opinion of Central Bancompany, Inc., and/or its subsidiaries and does not imply endorsement or support of any of the mentioned information, products, services, or providers. All information presented is without any representation, guaranty, or warranty regarding the accuracy, relevance, or completeness of the information.