5 tips to tidy up your finances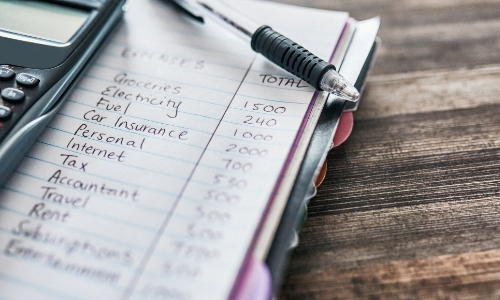 Keep your finances in order and consistent by taking time to tidy up at least once a year. Use these five helpful tips to get you on track to meet your goals.
1. Prep for tax season. Make sure you're organized before March comes around, so that you're more than ready for the April deadline. Do yourself a favor and give yourself plenty of time to gather all the necessary documents to finish your 1040. If you're able to file your taxes before the end of March, you'll save yourself the stress of meeting the deadline.
2. Review your free credit report. Each year you can receive a free credit report from any of the three major credit bureaus. Always be sure to review your credit report carefully to look for oddities. If you spot any incorrect information contact the credit bureau immediately, as this is the information that any potential lender will review. If your report's information is true, but not up to par, it may be time to reevaluate your financial strategies.
3. Review your budget. Have you established your monthly budget? If not, it's time to start. A recorded and detailed budget can help you stay on track and more easily keep track of your financial state. Monitoring your expenses, retirement savings, and general savings will detail how much money you're actually able to save on a monthly basis. If you're already working from a written budget, take the time to review it each spring. Your life and priorities are always changing, so let your new budget reflect both where you are and where you want to be. Online tools like Money Manager can help you stay on track and monitor your spending in one, convenient location.
4. Create a bill calendar or checklist. Re-evaluating your organization is an easy way to get your finances prepped and ready. Create a calendar marking the payment dates for any bills, credit card payments, loan payments, and even paydays to help keep your head clear when it comes to paying your dues. Consider noting the specific days that you plan to make certain payments. Another option to a physical calendar, is an online bill pay service. You can set up recurring payments, so your bills are paid automatically each month helping you avoid late payments.
5. Keep bills and eStatements safely stored. Don't keep financial documents stored under your mattress or stacked in piles through your home. Keep all important documents together in a safe, dry place so that they are easily accessible whenever needed. When it comes to your account statements, eStatements are stored electronically for up to seven years. It's a secure and convenient way to digitally view and store your account statements, tax documents, and loan documents all in one location.
Get organized and keep your finances in order throughout the year with these five tips. There's no better time than now to tidy up your finances. You can thank us later.
The information provided in these articles is intended for informational purposes only. It is not to be construed as the opinion of Central Bancompany, Inc., and/or its subsidiaries and does not imply endorsement or support of any of the mentioned information, products, services, or providers. All information presented is without any representation, guaranty, or warranty regarding the accuracy, relevance, or completeness of the information.