Expect the unexpected this summer travel season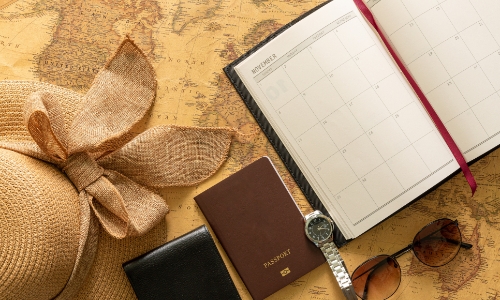 The summer travel season is always one of the busiest times of the year for airlines. For many individuals and families, Memorial Day Weekend to roughly the beginning or middle of August is the perfect time to visit other states or countries for a few reasons.
First, the weather is inherently warmer and this makes for an even better trip after a long winter and cool spring. Schools are also no longer in session, so in many ways, summer is the best opportunity for families to bond before a new school year starts up.
If you've traveled in recent years, you've likely come to understand the procedure of confirming your flight, checking in your luggage and waiting in security lines.
There has been much debate over the need for today's current security standards in airports, such as the body scanners and the removal of shoes. Even with some of the controversy surrounding those requirements, you will still have to abide by the security rules.
But in recent weeks, wait times in security lines have garnered immense media coverage for how long passengers are having to wait. The summer travel season is always busy and hectic, but this year, things might ramp up.
Here is what you can expect if you have a vacation planned in the coming months, along with some of the best ways to ensure your vacation isn't ruined by travel headaches.
Prepare to wait
Security lines at airports around the country are currently experiencing huge wait times. Most of these delays stem from the fact that the Transportation Security Administration, which handles security screening and checking carry-on bags, is understaffed and lacks the funds to hire more personnel.
While it has always been a good habit to arrive at the airport well ahead of your flight, you may want to plan on arriving even earlier. For domestic flights, consider getting to the airport three hours ahead of your scheduled flight, and at least four fours beforehand if you're flying internationally.
You'll also need to know what to expect once you arrive at the airport. Prepare to remove your shoes and belt, and set aside your laptop to be inspected separately. Be sure to check any limits on liquids and other items such as toiletries as well.
Financial hacks
There are also some ways you can financially beat the long wait times. The first involves signing up for TSA PreCheck.
At a cost of $85, you'll be able to go through a special security line without having to empty your laptop bag or take off your shoes. According to CNN, you will have to go through the application process, which involves you providing the appropriate documentation, including fingerprints.
Additionally, the $85 you pay means you will have PreCheck for five years. This comes out to a small sum of $17 a year to skip longer security lines. You realistically save this amount by choosing to stay in for dinner one extra night during the year.
Time your purchase
There's no way around the busy summer months, but you can time your flights so you will fly when airports won't be as busy.
"Off-peak flights may even save you money."
Flights that are midweek and during the day generally tend to be considered off-peak times. When searching for airfares, try to get a flight that leaves on a Tuesday or Wednesday. While this isn't a total guarantee, it can shorten the amount of time you spend waiting in security.
Off-peak flights may even save you money, which is always a bonus.
This summer, prepare yourself for longer than normal wait times to pass through security because of circumstances out of your control. But you can help remedy the situation by arriving at the airport earlier, enrolling in TSA PreCheck or flying when airports aren't as busy as they would be on the weekends.
Go with luggage
Some of the larger airlines currently have a process that essentially allows you to bring two carry-on bags with you. For shorter trips, this means you won't have to pay extra for luggage. However, more carry-on bags may make the security check longer as everything needs to be screened.
Consider packing everything into your luggage and potentially saving a little extra cash to cover those additional fees.
The information provided in these articles is intended for informational purposes only. It is not to be construed as the opinion of Central Bancompany, Inc., and/or its subsidiaries and does not imply endorsement or support of any of the mentioned information, products, services, or providers. All information presented is without any representation, guaranty, or warranty regarding the accuracy, relevance, or completeness of the information.