Job seekers need to get their foot in the door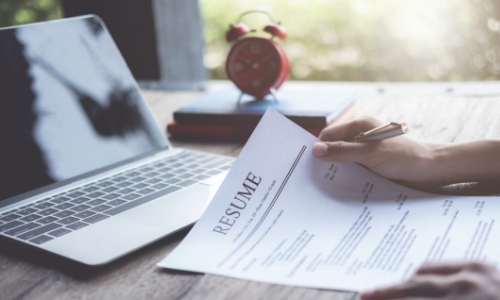 The economy is slowly gaining steam, but it's still a tough market for many out-of-work Americans hoping to land a job.
Ben Medlock, co-founder of Swiftkey, said job seekers should try to bring as many skills to the table as possible when coming in for an interview.
"The main thing not to do is stop learning or stop being curious," Medlock told Forbes [1]. "We rate people who are always teaching themselves and others something new. That gives you lots to talk about in an interview, too."
Medlock said his company looks for people who stand out and have an "entrepreneurial spirit." He's not alone.
Ann Pickering, human resources director at O2, knows how difficult it can be for people to get their foot in the door. From lengthy resume requests to demanding interview processes, finding a job isn't easy.
That's why Pickering said people should sit down and make serious investments in improving their resume. She believes the best thing a person can do is make their resume look different than the numerous other candidates.
"Use your application as a chance to show what you'd bring to the role - and it doesn't need to just be words on a page," she said. "People who bring a digital aspect to their application, whether that's a well-crafted blog post or a snappy Vine video, will always leave a lasting impression."
However, that doesn't mean doing something quirky like writing a resume in nail polish or adding unnecessary pictures of cats in a cover letter. Pickering said the less clutter the better. Resumes should be concise and straight forward.
"It can be tempting to shout about everything you've ever accomplished, but this can sometimes mean doing yourself a disservice," Pickering said. "Read the skills and requirements an employer is looking for closely, and ask yourself whether your application can link back to every point on the list. If not, change it - and cut out anything that's not relevant."
Comb through your social media pages
The best resume in the world won't save a job seeker from an unprofessional social media account, which is why USA Today recommended job seekers clean up their various public profiles [2].
That could entail erasing party pictures or any long rants, because once the interview process gets serious, job seekers should bet that hiring managers will be doing a little research of their own and checking out Facebook and Twitter.
A study from On Device Research, a marketing analysis firm, reported 10 percent of young job seekers have lost out on a job because of their social media profiles [3]. On Device Research expects that number to rise, because 70 percent of young American respondents said they weren't concerned their social media channel would have any impact on their ability to land a job.
Meanwhile, two-thirds of respondents said they wouldn't stop using social media regardless of a possible negative influence it might have on their job prospects.
While that doesn't mean job seekers should completely forgo social media, it does signify that they should be careful of what they post. USA Today said it's fine to be active on social media, as having a Facebook or Twitter account often shows that a job seeker is a real person. However, it's better to bank on one great social media account than a slew of less up-to-date social media channels.
Connect with the hiring manager
Using responses from 2,300 hiring managers, a study from CareerBuilder.com revealed that 40 percent of HR professionals examined social media channels to review candidates [4]. Roughly a third of them omitted candidates based on what was found.
[1]. 7 Ridiculously Useful Tips For Job Hunters
[2]. 45 things successful job seekers do on social media
[3]. Young People's Consumer Confidence Index
[4]. 1 In 3 Employers Reject Applicants Based On Facebook Posts
The information provided in these articles is intended for informational purposes only. It is not to be construed as the opinion of Central Bancompany, Inc., and/or its subsidiaries and does not imply endorsement or support of any of the mentioned information, products, services, or providers. All information presented is without any representation, guaranty, or warranty regarding the accuracy, relevance, or completeness of the information.