Navigating Homeownership with Student Debt
Learn how you can successfully navigate the path to homeownership while managing your student debt responsibly.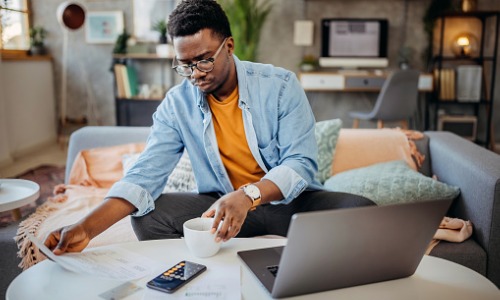 Buying a home is undoubtedly a mix of emotions, combining both excitement and fear. However, that fear can intensify if you have the added burden of student loan debt. Learn steps you can take to prepare yourself for purchasing a home while managing your student loan debt.
Improve Your Credit Score
When borrowing money, your credit score has significant importance for many financial institutions. It influences the interest rate offered and the loan amount you may qualify for. It is important to reach the highest credit score possible. By doing so, you increase your chances of securing more favorable interest rates and better loan options.
Decrease Your Income-to-Debt Ratio
When buying a home, a mortgage lender will calculate your debt-to-income ratio. They use that score to determine your ability to make monthly payments. Many mortgage lenders use the 28/36 rule. The rule states that your entire housing costs and total debt payments should not exceed 28% and 36% of your gross monthly income.
Explore Mortgage Options
Once you have assessed your credit score and debt-to-income ratio, it is time to explore various mortgage options. With a wide variety of choices available, it is important to conduct thorough research and carefully evaluate each option. Taking the time to analyze different mortgage products ensures you make an informed decision and select the best option.
Apply for Pre-approval
Pre-approval involves a loan officer thoroughly examining your financial situation, looking at factors like income, debts, assets, and credit history. Their evaluation determines the maximum loan amount you qualify for and estimates your monthly payment capabilities and interest rate.
Find a Home
During this exciting phase, it's important to consider several factors. First, focus on finding a home that aligns with your pre-approved mortgage, ensuring that the price range falls within your borrowing capacity. Additionally, prioritize properties that suit your lifestyle and fulfill your specific needs.
By taking these aspects into account, you can improve your house-hunting experience and increase the chances of finding your ideal home. Happy house hunting!
The information provided in these articles is intended for informational purposes only. It is not to be construed as the opinion of Central Bancompany, Inc., and/or its subsidiaries and does not imply endorsement or support of any of the mentioned information, products, services, or providers. All information presented is without any representation, guaranty, or warranty regarding the accuracy, relevance, or completeness of the information.