Planning to move? Here's how you can save money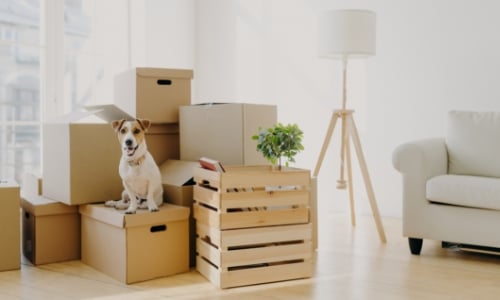 It's no secret the summer months are often the busiest when it comes to moving.
The warm weather certainly plays a factor, as it's definitely more pleasurable to haul your belongings across town or to a new state when it's nicer outside. Moving in the winter introduces certain hazards, such as snow and ice on the sidewalks, which can make it more difficult to unload the moving truck.
Additionally, families often wait until the summer to move in order to minimize the disruptions in their children's lives. By waiting until after the school year ends at all levels, parents can ensure their kids will be able to finish their studies and then focus on the big move.
Because the summer moving season is so busy, it's easy to lose track of any associated expenses. From purchasing packing materials to hiring a professional moving service, you might see the costs quickly pile up.
The earlier you start planning your move, the better. And this applies for all living situations, whether you're only going to a new apartment or into a new three-bedroom home.
Start early
If you know your living situation will be changing well ahead of time, it's in your best interest to start packing and planning everything in advance. The biggest reason: Early packing will help you downsize and reduce the number of belongings you'll be bringing.
Parting with personal belongings can be difficult, but also beneficial. The process will help you identify items you no longer use and clothes that you no longer wear. According to Bankrate, professional moving services often factor in the total weight of items and number of vehicles needed when it comes to calculating costs, so it's in your best interest to consolidate the clutter [1].
Even better, you have a few options when it comes to downsizing, and you'll even benefit in more ways than one.
Any old belongings, such as kitchen appliances or furniture, can either be sold or donated. A weekend yard sale can help you get rid of items and also help you earn some money. It may not be much, but you could also be in for a surprise and make enough money to cover all of your moving expenses.
The other option you have to consider is donating your items and clothing. Take them to the local thrift store or Salvation Army. While you won't receive any cash, you can write off your charitable donations on next year's tax returns.
Buying packing materials
Take advantage of any bags and suitcases you might have to pack clothes, shoes and any other wearables first. You'll then need to head out to buy boxes and packing tape, and possibly foam cushioning or newspaper for fragile items.
Your local home maintenance store will have boxes of every size available. If you've gone through your belongings earlier and downsized, you shouldn't need as many boxes. But it's also possible to find these supplies at other stores. Sometimes simply talking with a manager can get you sturdy boxes, free of charge.
Know when to hire professionals
Professional movers are more than helpful, but a top-rated moving service comes at a cost. When you're younger, it makes more sense to forgo seeking professional help if you don't own a lot of large items. Borrowing a friend's SUV or renting out a small moving truck are all viable options to transport a couch, bed set, and dinner table. If you do decide to rent a truck, make sure you get the right size because you don't want to pay for a larger vehicle if you don't utilize all the space provided.
Hiring professionals makes more sense if you have a family due to the amount of belongings you'll be bringing along. Professional moving services will bring all the packing supplies, including the truck, that are needed to transport larger items.
"It's in your best interest to get quotes from multiple movers."
But you can't hire the first moving service you contact. Companies will offer different rates, not to mention some may be more reliable than others. As such, you have to start researching and talking with moving services well ahead of the big day.
It's in your best interest to get quotes from multiple movers, Money Crashers recommended [2]. Don't leave all the packing work for the professionals. Instead, move as many of your belongings on your own as possible and leave larger items for the movers to handle.
Pick your moving date
The date you decide to move can also have an impact on associated costs. Summer will be the busiest time of the year, and thus, the most expensive. If possible, try to schedule your move midweek. You can also benefit by moving as early as possible in the summer, or hold off until the very last days.
Moving to a new home or apartment is a big life change. As you start to plan that day to ensure everything goes right, you'll also have to look for ways to save money on associated expenses.
[1]. 7 ways to save on moving costs
[2]. Tips for Moving on a Budget – Guide to Packing & Moving Costs
The information provided in these articles is intended for informational purposes only. It is not to be construed as the opinion of Central Bancompany, Inc., and/or its subsidiaries and does not imply endorsement or support of any of the mentioned information, products, services, or providers. All information presented is without any representation, guaranty, or warranty regarding the accuracy, relevance, or completeness of the information.