Save for the perfect honeymoon and keep finances secure while enjoying it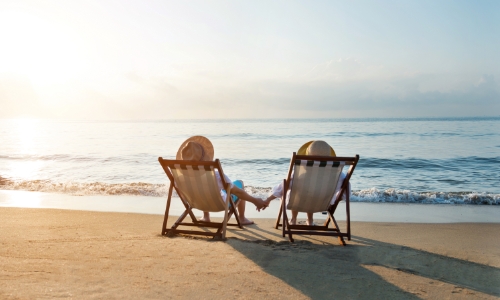 With all the excitement surrounding an engagement and wedding planning, it might slip your mind that you and your fiance have a honeymoon to save for as well.
Follow these tips for a money-conscious trip without sacrificing the charm and romance:
Get to saving
One of the first things you will want to do is establish a savings goal for your honeymoon, noted Destination Weddings & Honeymoons. Don't forget to include all elements of travel when figuring out costs. Consider hotels, meals, travel expenses and other miscellaneous expenses that may arise during your adventure.
To help ensure you put money away regularly, open up a savings account at your local bank. Decide how much money you can take from your income each pay period and organize it so the designated amount is deposited automatically. By doing this, you will not be tempted to spend your savings.
In addition, it's a good idea to eliminate frivolous expenses. If you aren't already cutting down on nights out on the town and ordering in to save for your wedding expenses, consider doing so to help bulk up your honeymoon budget. Holding garage sales or selling items online are other ways you can increase your funds for travel. Find unique ways to put money in your pocket before the big trip.
Think outside the box
A honeymoon registry is another option for couples, according to The Knot. This allows guests to pay for portions of your trip instead of giving a traditional wedding gift. If you find your built-up savings are not enough to cover the cost of your dream honeymoon, this is a great option.
Because you will likely be spending a lot of money on your wedding, Yahoo Finance recommended opening credit cards that provide travel-related rewards. When you use these on expenses like catering, dresses or the venue, you can gain airline miles to use on your honeymoon.
Don't be afraid to let venues and people know that you and your partner are newlyweds when you finally head on vacation. Sometimes you might nab an extra bonus feature, upgrade or save some extra cash. People appreciate love and capitalizing on that is a great way to help cut down on costs.
Financial security while on your honeymoon
When traveling, it is important to protect yourself against all types of theft, according to Bankrate.
Before you take off for your honeymoon, make sure you only bring what you absolutely need and avoid carrying valuables with you when walking around.
"Limit what documents you are going to carry with you," says Linda Foley, co-founder of the Identity Theft Resource Center, according to Bankrate. "Clean out your wallet and purse before you take that trip."
In addition, it's a smart move to pay for large purchases, like airline tickets, with a credit card. Typically, credit cards have a zero-liability policy, which is safer and more secure in case your information makes its way into the wrong hands.
You will also want to let your preferred financial institution know where you will be traveling. Relaying this information ensures your bank will not be suspicious of spending activity occurring in your honeymoon destination.
Also, don't hesitate to take advantage of your hotel safe. Keep valuables, such as cash or debit cards, safely tucked away when you and your spouse are not in the room.
"Nothing in your room is truly private," said Foley. "There are too many people with keys to that room."
If you notice your card is missing or stolen, notify your bank immediately to help eliminate the risk of theft.
The information provided in these articles is intended for informational purposes only. It is not to be construed as the opinion of Central Bancompany, Inc., and/or its subsidiaries and does not imply endorsement or support of any of the mentioned information, products, services, or providers. All information presented is without any representation, guaranty, or warranty regarding the accuracy, relevance, or completeness of the information.