Tips for small businesses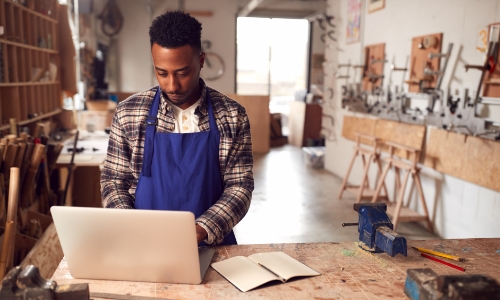 As the landscape for small companies continues to change, a growing number of business owners are looking far and wide for ways to get a step up on the competition.
While some companies looking to expand are most interested in improving their social media and advertising campaigns, others are interested in safeguarding what they've already established through improved security measures.
Recent cyberattacks on companies such as Sony and Target have spurred many small-business owners to make major investments in upgrading their online security systems. The Washington Post reported many small-business owners think they are too small to be targeted by cyber criminals, but that simply isn't the case [1]. Small businesses are generally at a greater risk than large companies because they don't have the same network security systems their larger counterparts wield.
Stay in tune with what's going on
While large companies hit by cyberattacks are more likely to survive, small businesses don't have that same kind of luxury.
When a small business gets hit by criminal activity over the Web, it likely spells doom for the business. That's why it's especially important for small-business owners to stay ahead of any data breach.
It's been suggested that Sony and Target ignored warning signs that their networks would be hacked. That's why if an employee or computer software suggests a hack is on the horizon, taking the necessary steps to stop the hackers and improve the security of the network could mean the difference between a successful business and closed doors.
When to contact customers with mobile 'push' messages
Bloomberg Businessweek reported mobile marketing campaigns known as "push" messages can be a great way to keep customers informed [2].
Betsy Page Sigman, a professor at Georgetown University's McDonough School of Business, said these are unsolicited messages designed to expand knowledge of a business and word of mouth.
"It's all done with the idea of engaging customers and getting them to spread your offers on social media," Page told Bloomberg Businessweek. "If people buy something every time you send a discount, keep sending them. But pay attention to when they stop, because that data tells you a lot, too."
Bloomberg Businessweek asked business owners to avoid sending too many push messages because they could turn off potential buyers. Usually when people are shopping on a mobile platform, they are already seeking out products and don't need advertisements telling them where to go.
Find the right employees to work alongside
The heart of every business is the employees working hard on the inside, so taking time to find the right employees will pay dividends down the road.
Don't be hasty when hiring. While the process should be handled with a swift purpose, if the right candidate doesn't pop up after the initial screening, don't feel required to hire the next best option.
Paul Lindley, founder of Ella's Kitchen, told BBC News he believes the employees of a particular company can help mold the decisions of the business owner in both good and bad ways [3].
"My tip for any entrepreneur would be to inspire your team with purpose and leadership and to foster strong working relationships with those beyond your own organization," Lindley said. "Collaboration is key for achieving success with a more purpose driven and socially responsible business."
Angus Thirlwell, founder of Hotel Chocolat, agreed with Lindley.
"When you have good people with you, anything is possible," Thirwell told BBC News. "Most of the regrets I have in business are around the theme of keeping the wrong people on for too long."
[1]. Small business advice: What your company can learn from the Sony cyberattack
[2]. Six Mobile Marketing Tips for Small Businesses
[3]. Top business tips for 2015
The information provided in these articles is intended for informational purposes only. It is not to be construed as the opinion of Central Bancompany, Inc., and/or its subsidiaries and does not imply endorsement or support of any of the mentioned information, products, services, or providers. All information presented is without any representation, guaranty, or warranty regarding the accuracy, relevance, or completeness of the information.