Vacationing without breaking the bank [Infographic]
What's your dream vacation? Scuba diving in the Caribbean? Skiing in Colorado? Seeing the buffalo roam at Yellowstone?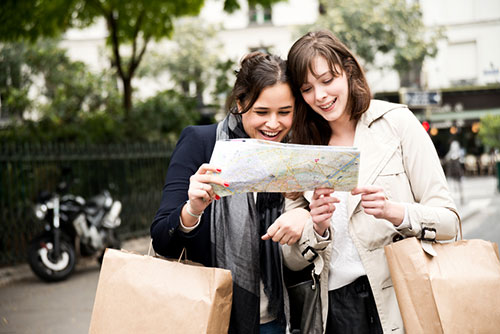 Vacations are meant to be enjoyable and spent with loved ones. Having to worry about the hole in your bank account after a week of fun should be the last thing on your mind. There are a number of things you can do to decrease the overall cost. Be flexible with your travel plans and use these travel hacks to get the best bang for your buck!
Food
Many hotels offer free breakfast every day. Take advantage of this when staying and make sure to look into hotels that offer this complimentary meal.
Also try to consider eating out for lunch instead of dinner. Many times restaurants will offer a cheaper lunch menu and specials, rather than the high prices that are charged at the dinner hour. Plus eating a big meal in the middle of the day will keep you fuller longer for more time to explore!
Always remember to bring snacks from home when traveling! Gas stations and airports charge high dollar for simple snack foods; to avoid this, purchase snacks to bring on vacation ahead of time.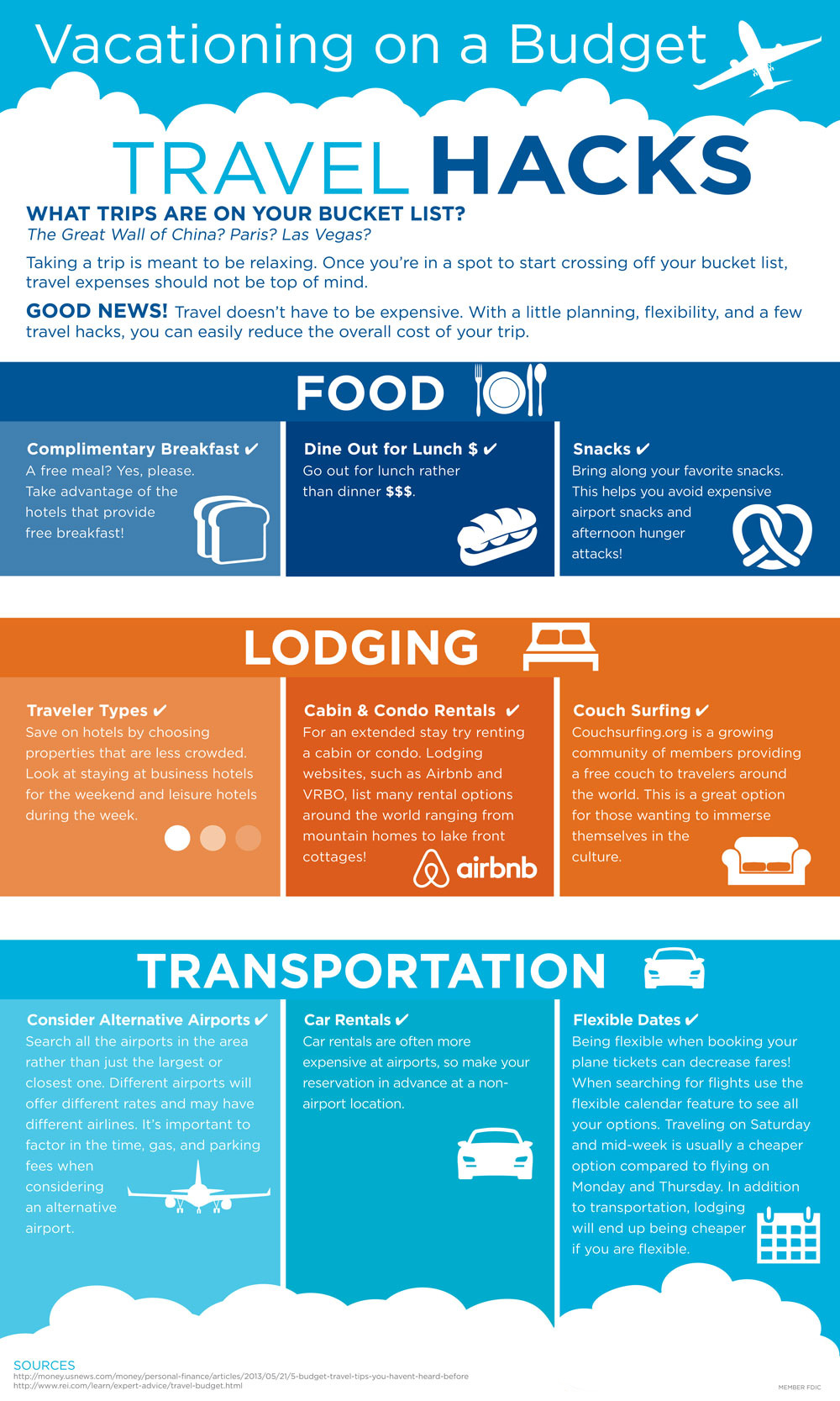 Lodging
Choosing hotels that are less crowded will help save money on lodging throughout your vacation. Staying at business hotels for the weekend and switching to a leisure hotel for the week can save you more money in the end than staying at the same hotel all week. Business hotels often offer cheaper options or deals to fill their extra rooms on the weekends.
If you are traveling for an extended period look into renting a cabin or condo. There are many websites like Airbnb or VRBO that offer different rental options all over the world from an upstairs room to an entire condo! This is a great option when traveling with a large group since many times it provides you with extra space and a kitchen to prepare meals and save on eating out every day.
If you want a real cultural experience of where you are visiting look into using couchsurfing.org. This online community has members all across the world and offers a free couch to stay on.
Transportation
Look into other airports near you that may be a cheaper alternative. Many times, smaller airports will have cheaper flight options with different variety of airlines than the large airports. Don't forget to factor in the difference in gas, time, and parking fees when looking into other airport options!
Another savvy saving trick to flying is to look into alternative dates when booking your flight. This can save you a lot of money on transportation costs! Use the flexible calendar feature with your airline to see all of your options. Flying on Saturdays and mid-week days are usually cheaper when compared to traveling on a Monday or Thursday. If you are willing to be flexible with your lodging along with your flight, you can save even more money to spend elsewhere or save for your next getaway.
Often times, rental cars cost more at airports. To avoid spending this extra money, look into reserving a car in advance at a non-airport location. Look to see if the rental companies offer a pick-up service from the airport so you can avoid spending money on a cab ride too!
Utilizing these travel hacks will help ensure that you have a great vacation without overspending as well! With the extra savings you might even be able to extend it by a day or add another excursion like a nice massage or a nice dinner at a local hot spot.
The information provided in these articles is intended for informational purposes only. It is not to be construed as the opinion of Central Bancompany, Inc., and/or its subsidiaries and does not imply endorsement or support of any of the mentioned information, products, services, or providers. All information presented is without any representation, guaranty, or warranty regarding the accuracy, relevance, or completeness of the information.