What are you doing this fall?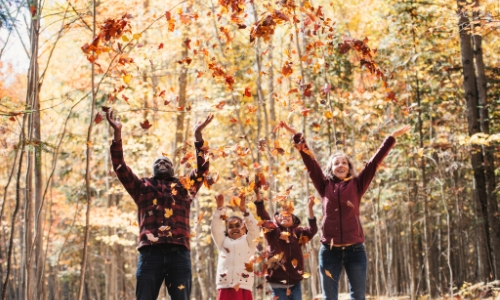 Fall is officially here.
Are you excited? Although it might take a little while longer for the weather to truly start lowering in temperature, make no mistake about what season it is. You know it's fall when coffee shops and other restaurants have begun advertising their pumpkin spice-flavored drinks and snacks.
Those beverages can be a treat every now and then, but the bigger treat can be how you choose to spend this season.
Fall is an ideal time for outdoor activities, some of which are only possible once the leaves start turning colors and falling from trees. Additionally, the following ideas won't require booking flights months in advance, nor will they be a heavy financial burden.
Heading to the orchard
Visiting an apple orchard is a staple of the fall season. When you go, you and your family can pick as many fresh apples as you want and purchase them. Some orchards even have other treats available, such as pies, muffins and anything else apple-flavored.
Some orchards also hold farmers markets on the weekends. During one weekend trip, you can make the decision to buy fruits, meats, vegetables and even crafts from local producers.
Heading to an apple orchard is also beneficial for family bonding time. Whether you're a parent or not, picking apples is an activity that can be fun. You may even challenge yourself to find the best apple possible.
The more apples you get your hands on, the more ingredients you have for some delicious recipes, as highlighted by Food Network [1]:
Applesauce (a timeless classic)
Apple popcorn balls (dried apples filled with popcorn and more)
Apple fritters
Pie and/or cake
And if you brew your own alcoholic beverages, or perhaps want to learn the ropes, brewing cider can be a good starting point.
Enjoy the outdoors
There were likely some points during the summer where you wished for cooler and more comfortable temperatures. Hot summer days are nice, but when the humidity gets too high, no one is comfortable.
You don't have to worry about those uncomfortable conditions now that fall is here, which means you won't instantly start to sweat if you walk for a few minutes. Take advantage of the comfortable weather by enjoying the outdoors.
One suggestion: a weekend camping trip. Temperatures might be cooler, but throw in some coffee or hot chocolate and a luscious landscape filled with oranges and browns, and you have quite the experience.
Financially, though, fall camping is affordable. ReserveAmerica pointed out that once summer comes to an end, rates at campgrounds decline, as well as reservations [2]. You can realistically show up to the campgrounds and find a suitable spot that won't hurt your wallet.
Another perk with camping is that you can go on a trip with anyone. You can organize a big family outing or get some friends together for a relaxing weekend that allows everyone to escape from their hectic jobs.
Camping can even be an option if you're looking for a weekend getaway with your significant other.
Show your fandom
The season is still early for professional and college teams. Even if you're team isn't playing well, don't hesitate to show your pride.
Fall game days make for an enjoyable tailgating experience, and you don't even have to be physically at the game to get in on the fun.
If you're going to tailgate before a Kansas City Chiefs or Missouri Tigers game, be sure to show up with supplies in hand. Popular items to bring can include:
Brats
Hot dogs
Chips and dip
Chicken wings
Drinks
When you aren't going to the game, consider hosting a watch party and invite friends and family over. Be sure to tell your guests to bring something so there's a wide variety of food to choose from. You'll also lower the cost of hosting a watch party since you won't be the one buying all the food.
"Fall game days make for an enjoyable tailgating experience."
Exercise
Like camping, exercising in the fall can sometimes feel more comfortable. The summer's high humidity and heat temperatures take a toll on your body while making workouts more difficult.
According to Active.com, your running pace is influenced by the weather [3]. As a result, your heart has to work harder so your normal pace may seem more taxing. While running in the summer, it's best for you to slow down.
But now that fall is here, lower temperatures will help you feel better and hit your target pace if you're training for an upcoming race. And it's not just running - biking and walking are all forms of exercise that complement the fall weather.
You'll still need to dress appropriately for the weather. Workout attire that help keeps you warm, including gloves and a hat, are a must.
With fall officially here, it's time to ask yourself how you'll be spending these next few months.
[1]. 50 Things to Make with Apples
[2]. 8 Reasons to Go Camping in the Fall
[3]. Running in the Humidity
The information provided in these articles is intended for informational purposes only. It is not to be construed as the opinion of Central Bancompany, Inc., and/or its subsidiaries and does not imply endorsement or support of any of the mentioned information, products, services, or providers. All information presented is without any representation, guaranty, or warranty regarding the accuracy, relevance, or completeness of the information.