What to know before applying for a home loan [Infographic]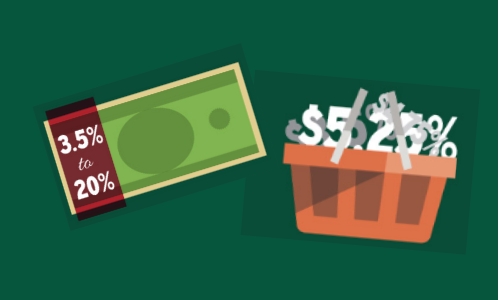 While filling out mortgage applications and getting approved for a good interest rate can be a lot to take care of, as long as you do some research beforehand, you shouldn't have too much trouble getting this homebuying step accomplished. Here are a few tips to help streamline the mortgage application process:
Check your credit report
Before you start looking for your future home, check to see that your credit is in a good place. Having a good credit score can help make this process easier and less stressful. Start by checking your credit report three to four months before you look for a home. Scan it to see if there are any mistakes. If you notice any errors, contact the credit bureau that issued the report and alert them to the mistake. Also, make sure that your credit score is in a good range. If you're not comfortable with its current standing, focus on repairing it by making your credit card payments on time and whittling down your debts.

Get prequalified
After you've made sure your credit report is accurate and in good shape, your next step should be to get prequalified for a mortgage. This can help you get the home you want more quickly because lenders know you are one step closer to getting a mortgage. You will need a few financial documents - including proof of income, credit report and verification of your employment - to get prequalified.
Be aware of upfront costs
Once you have gotten your finances in order, you should start researching the cost of your future home. Your mortgage will only be part of what you have to pay. Don't forget to factor in upfront costs and any other fees such as closing costs, origination fees and mortgage points. Use your annual percentage rate to help you estimate your monthly payments. Your down payment can be the most expensive upfront cost when buying a home, so make sure you have enough saved up. First-time homebuyers spend an average of 2 years' worth of savings on down payments.
Lock down an interest rate
Keep in mind that interest rates can fluctuate for a number of reasons, whether it's due to your personal finances or the state of the economy. Rates tend to change from week to week, so make sure you get yours locked in at the right time.
The information provided in these articles is intended for informational purposes only. It is not to be construed as the opinion of Central Bancompany, Inc., and/or its subsidiaries and does not imply endorsement or support of any of the mentioned information, products, services, or providers. All information presented is without any representation, guaranty, or warranty regarding the accuracy, relevance, or completeness of the information.