Your checklist for the dreaded money talk before marriage
The "money talk" before marriage is a key component to a successful marriage.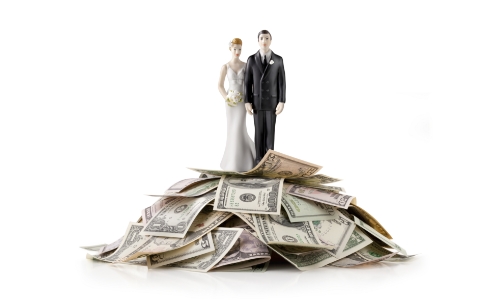 In a 2014 survey, conducted by the Austin Institute, they found that of the top reasons for divorce, 24% of couples divorced due to financial priorities and spending patterns [1]. Leveling with your significant other on financial matters before marriage can save you both from heartache and stress. It can be hard to open discussion over money matters, especially if it has been an untouched subject prior to your impending engagement. So, here's a checklist of talking points to cover with your significant other to make this difficult talk, not so difficult.
1. Substantial debt. Enlighten your spouse on any unpaid debt you have before marriage as a good start to open the conversation. Student loan debt, car loans, credit card balances, and mortgage loans are all things that you should put on the table. The amount of combined debt that you, as a couple have, could change how much you should spend on the wedding, and alter the timeline for any other milestones in your short-term; such as buying a house or having kids.
2. Tolerances for credit card debt. As a married couple, you may plan to have a credit card that you share with your spouse to charge major expenses on. It is important to acknowledge each other's levels of comfort with the charges you have on the card at any given time. If one person willingly takes on more debt than the other is comfortable with, it could become a point of contention. So be sure to meet in the middle when dealing with mutual funds! It's always a good idea to have a dollar amount threshold that is discussed before making a purchase.
3. Joint accounts. Joint accounts are a gray area in regard to couples' finances; some couples have joint savings and checking accounts, while others just have one or the other, and some leave their finances completely separate. It all depends on what works for your relationship. Be sure to talk to your partner about what they would be happy with, and do not make assumptions based off what you would like, after all you know what they say about assumptions…
4. Buyer or spender. "Opposites attract" may run deeper than your relationship being an introvert and extrovert combination. Buyer and spender personalities are something that plays into a partnership as well. Understanding each other's spending habits is especially important for any possible mutual accounts that you will share with your spouse. Coming to an accord for what can be charged on that account will save you from future arguments over miscommunicated charges and spends.
5. Credit score. Knowing each other's credit scores will help out in the long run when you make a large purchase, such as a house, and need to take out a loan. If you both have bad credit scores, knowing to wait on that large purchase until you both can improve your credit, will greatly relieve the possible stress of trying to shoulder that large debt with bad credit.
"The money talk" doesn't have to be an ultimate of test of love that you and your partner must pass before marriage. If you both meet in the middle with a cooperative mindset, it'll show a sign of growth and commitment within your relationship when you both can calmly talk finances, and reach a compromise.
[1] Divorce in America: Who Wants Out and Why?, Austin Institute
The information provided in these articles is intended for informational purposes only. It is not to be construed as the opinion of Central Bancompany, Inc., and/or its subsidiaries and does not imply endorsement or support of any of the mentioned information, products, services, or providers. All information presented is without any representation, guaranty, or warranty regarding the accuracy, relevance, or completeness of the information.