4 Tips to Make the Most of Your Budget
Check out these four tips to make the most of your budget.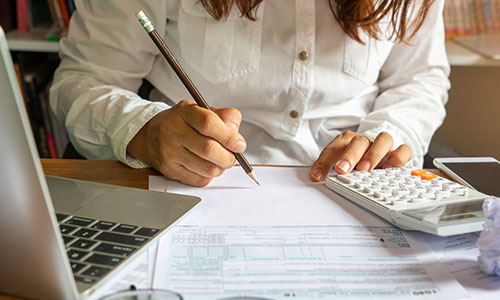 Setting a budget and sticking to it can be a tough task. As you learn to utilize your budget, consider how these tips can make a major impact on your spending and saving.
Examine your home and living situation

Closely examine your living situation including the cost of living and home-related expenses. Are there any places you can cut costs to save money?

You can sell household items that you no longer need on apps such as OfferUp.
Install CFL or LED light bulbs and utilize power strips and timers to reduce electricity usage.
Lower the temperature of your hot water heater.
Eliminate your cable bill and consider switching to a cheaper streaming service.
Consider these five ways to budget your subscription services.
On a larger scale, you can look for a smaller home or consider refinancing your home to get a lower rate.

Consider what you eat and drink

There are multiple ways to make room in your budget when it comes to food options. If you're someone who often eats from restaurants, it may be time to cut back and try your hand at cooking. On average, it is almost five times more expensive to order delivery from a restaurant than it is to cook at home. [1]

Choose to eat out less or pick up take-out to avoid the additional delivery fees.
Buy nonperishable items in bulk.
Grow a garden to have an abundance of vegetables on hand.
Buy generic brand items and use coupons.

Find a roommate

For homeowners looking for additional revenue to put toward their mortgage loans, consider renting out an extra bedroom. Make sure to personally interview the applicants, perform a background and credit check, and set boundaries before a tenant moves in. Clearly state the rent and utilities prices for each month to avoid any confusion for the renter.

If you aren't a homeowner, taking on a roommate can still help slash expenses. You can split the monthly rent and utilities, make dinners together at home to save money, and make a new friend!

Consider your industry

In order to make a budget, you must be aware of your monthly income. Take a look at the industry in which you work. Does your paycheck cover all of your expenses? As many industries take a toll due to the pandemic, consider if you are in the right field. According to the U.S. Bureau of Labor Statistics, the most rapidly declining industries include: [2]

Tobacco manufacturing
Cable programming
Newspaper and book publishing
Travel arrangement services
Communications equipment manufacturing
Consumer goods rental and general rental centers
Transportation equipment manufacturing
Coal mining
If you find that you work in one of these industries and can't cover all your bills, consider picking up a second job. Although working two jobs may seem daunting, you can find a second job that you love! Can you design websites? Work as a copywriter? Teach music? Try out contract work or find a job on the weekends that brings in some extra cash.
We are always here to help! Visit your local Jefferson Bank branch or contact us if there's any way in which we can help you.
Sources:
[1]. Here's How Much Money You Save By Cooking At Home, Forbes
[2]. Industries with the fastest growing and most rapidly declining wage and salary employment, U.S. Bureau of Labor Statistics
The information provided in these articles is intended for informational purposes only. It is not to be construed as the opinion of Central Bancompany, Inc., and/or its subsidiaries and does not imply endorsement or support of any of the mentioned information, products, services, or providers. All information presented is without any representation, guaranty, or warranty regarding the accuracy, relevance, or completeness of the information.