5 budgeting mistakes and what you can do to avoid them
Budgets can keep you on track and up to date on your finances, but making small mistakes here and there can really add up and hinder your progress. Here are five of the most common budgeting mistakes and how to avoid them.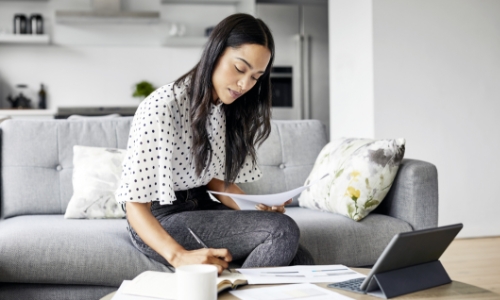 Losing track of your expenses. If you're creating a budget, it's crucial to have current and accurate knowledge of all the expenses going out of your account.

Solution: One way to avoid missing expenses is to use a consistent method of making payments, i.e. online bill pay and debit card tied to one bank account. Keep track of your purchases in Online Banking or save receipts if you prefer to have a paper trail. Technology such Money Manager, our online budgeting service, and Account Alerts can help you stay in the know and keep a close eye on the money going in and out.

Estimating your balance. As mentioned above, spending from several accounts can become confusing. If you're using more than one account, keeping an inaccurate estimate of your balance can convince you that you have room to spend than you really should.
Keeping up with friends. FOMO, fear of missing out, is real and can have a negative impact on your spending. It's hard to stick to a budget if you have friends that are constantly eating at restaurants, going out at night, or making last-minute spending decisions. You want to save your money, but you also don't want to be left out of all of the fun. What can you do?

Solution: Take the initiative to make plans with friends that fit into your budget. Suggest doing a weekend BBQ or movie night at home, it will be much more wallet-friendly and still allow you to spend quality time with your friends.

Impulse buying. Steer clear of impulse buying as this can be detrimental to your wallet. Whether it be a new pair of shoes, the latest cell phone model, or a multitude of miscellaneous things, everyone has fallen victim to an impulse purchase at some point.

Solution: If you know you have a tendency to impulse buy, allot extra money in your budget for such purchases. Make sure you stick to your plan and don't go over the funds you have set aside. This can allow you to still indulge every once and a while, and keep your budget on track.

No breathing room. When creating your budget, make sure it's a plan that's realistically possible for you to achieve.

Solution: Make a plan that you know you can follow. Put aside what you need each month for bills and savings, and also a specific amount of money for unexpected expenses that will pop up throughout the month. It's important to understand your spending habits from the get go so that when you make additional purchases here and there, you're not completely throwing off your budget for the month.
Budgeting can be hard and to be successful you must stick with it. As long as you're aware of these mistakes, you'll be able to make a conscious effort to stay within your budget each month. And, luckily we have tools to help you.
Get started with Money Manager today
The information provided in these articles is intended for informational purposes only. It is not to be construed as the opinion of Central Bancompany, Inc., and/or its subsidiaries and does not imply endorsement or support of any of the mentioned information, products, services, or providers. All information presented is without any representation, guaranty, or warranty regarding the accuracy, relevance, or completeness of the information.