5 Reasons to Choose the Jefferson Bank Mastercard®
When it comes to booking your next vacation, shopping for the holidays, or placing your monthly order for household essentials, it's way too convenient to complete a transaction with the click of a button thanks to mobile apps, saved browser information, and saved payment options at online checkouts.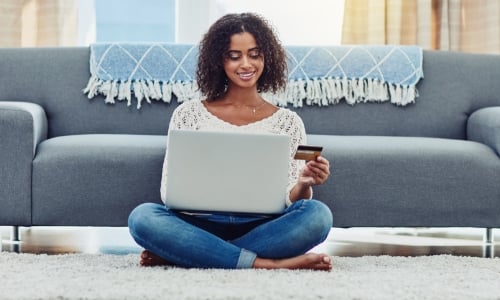 How do you decide which payment option you'll use? Do you have one card you use for all payments, no matter where you're doing business? Or, do you have a specific card depending on the retailer where you're shopping? Either way – imagine the simplicity of using one card for every online purchase, every in-store purchase, and every stage of your life. Plus, get the convenience of having one bill arrive each month, one monthly payment, the ability to view all activity in one place, and even better – the ability to manage your rewards – all with one username and password.
Now that we have your attention, we'll break it down for you. Here are five reasons to choose your Jefferson Bank Credit Mastercard® as your go-to card to make your life easier and simplify spending.
Protect your identity with Mastercard® ID Theft Protection™
Identity theft is no joke… in 2021, 42 million Americans were victims of identity fraud¹ in the United States. With Mastercard®, you can monitor for potential risk, set up alerts, and respond to suspicious activity from an easy-to-use online portal. This protection program assists at every possible stage – protection, detection, monitoring, and resolution.
Keep an eye on activity with Alerts
By utilizing alerts on your card, you'll know if, or when, a transaction happens without your consent. If it's an online transaction – you'll know. If someone swipes your card at the gas station – you'll know. You can set up a spend alert (based on amount), a transaction alert (based on the channel of purchase), a merchant alert (based on the retailer type), a location alert (based on geographical location), or a travel notification (alert us when you're traveling).
Earn rewards on every single purchase
With the simplicity of using one card for every purchase, you can also maximize your rewards by earning them in one place to gain the greatest value out of your rewards program. You can earn cash back+, redeem points for personal items, redeem points for travel, and more – all from one card and one online rewards portal.
Experience quick and easy checkouts
Ease through checkout no matter where you're shopping – online, in-store, in-app, or even when paying your recurring bills. Save your card information at checkout or add your card to your digital wallet, so there's never a question as to what card you're using. With your information saved and secure, you can complete checkout quickly, so you can get back to what matters most.
Access to local customer services, you know and trust
Yes, we'll say it. The number one convenience of choosing your Jefferson Bank Credit Mastercard® at checkout: local customer service. If you ever have any questions or issues with your card, you can talk to us, your local bankers at your local bank. We're here for every stage in your life – building your credit, taking your dream vacation, shopping for new school clothes, and even the unexpected. We'll do our best to answer your questions as quickly as possible to help you make the most of your credit. If our branches aren't open when you need to call, there's a number on the back of your card to connect you to our team designated to answering all questions related to your credit card.
Our Jefferson Bank Credit Mastercard® is the only card you'll need. From the security to the rewards, and the knowledge of your local banker, we're here to help you build and manage your credit. Learn more about what it means to save your card information at checkout.
Apply for a Jefferson Bank Credit Card
¹Identity Fraud Hit 42 Million People in 2021
This card is issued by The Central Trust Bank pursuant to a license by Mastercard International Incorporated. Mastercard is a registered trademark of Mastercard International Incorporated.
+Cash back in the form of a statement credit
The information provided in these articles is intended for informational purposes only. It is not to be construed as the opinion of Central Bancompany, Inc., and/or its subsidiaries and does not imply endorsement or support of any of the mentioned information, products, services, or providers. All information presented is without any representation, guaranty, or warranty regarding the accuracy, relevance, or completeness of the information.