Enjoy the Halloween haunts by sticking to your budget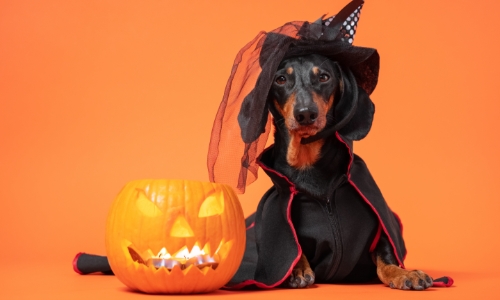 It is that time of year… kids and adults are anxiously awaiting this spooky holiday.
Kids are able to dress up as their favorite superheroes, idols or role models and walk around the neighborhood to collect a month's worth of candy while their parents can put on their creative hats to come up with an award-winning costume at the office party.
But with the trick-or-treating festivities lumped so close to the holiday season, budgeting is important. You want to take part in the fall holiday without sacrificing the fun. No one wants to be that person who shows up to the office without a costume.
Luckily, Halloween is a holiday where you can follow cost-saving tips but still enjoy everything the spooky holiday has to offer.
Don't be a big spender
Popular items to purchase include costumes, candy, decorations and greeting cards. But you also have to factor into account other expenses like party favors, transportation or the cost of attending a haunted house.
Get creative
It's not unusual for neighborhoods to hold friendly competitions to see which household can put out the best decorations. While other homeowners display elaborate puppets and lighting, you can get creative.
Decorations alone can run you about $100 or more. But some toilet paper rolls, construction paper and scissors will lead to some creative decorations.
Families can even have some quality time together by making decorations such as bats, monsters and more. These creations can be placed on your front door and windows for every trick-or-treater to see.
The same creativity can also be applied to your costume design. Sure, you can buy one, but where's the fun in that? You also run the risk of spending too much on a costume.
First, you'll need to decide just what you or your kid's costume will be. From there, see if you already have clothes that can be used. If not, head to a thrift store to pick up what is needed.
But if you must purchase a costume for your kid or yourself, try visiting a discount Halloween specialty store to avoid spending too much.
Party planning
When Halloween falls on a weekday, then the weekend before or after makes perfect opportunity to host a party. You'll want to have a good mix of finger (not literally) foods and something that can feed everyone.
If you plan to attend or host a Halloween party, ask that every guest brings one holiday-specific dish. Mummy dogs, Yoda soda and monster toes are all dishes that are delicious, spooky and fun, as highlighted by Food.com.
You do have to be somewhat careful when getting creative with food. Some elaborate food concepts may call for expensive ingredients or props. It's fun to cook or bake something unique, but try not to go overboard on decorations.
"Buying in bulk can make financial sense."
Sweet, delicious candy
Now comes the best part about Halloween: the candy. It's virtually every kid's favorite part, because who doesn't want to get sweet snacks for free?
And even if you don't have a family to take out trick-or-treating, you can still join in on the candy fun by spending the night handing out snacks.
These days, it's better to buy candy instead of making it. If you have a membership to warehouse stores, buying in bulk can make financial sense. You should also consider other types of candies and treats because some may be cheaper than the standard chocolate snacks.
Feel free to visit the store Nov. 1 to also pick up candy bags that have been cut in price as retailers start to make their major holiday push. Try not to wolf down all the candy in one sitting, though.
Halloween is a fun time, but like any other holiday, it can quickly get out of hand financially. However, you can still watch your spending and enjoy all of the haunts.
The information provided in these articles is intended for informational purposes only. It is not to be construed as the opinion of Central Bancompany, Inc., and/or its subsidiaries and does not imply endorsement or support of any of the mentioned information, products, services, or providers. All information presented is without any representation, guaranty, or warranty regarding the accuracy, relevance, or completeness of the information.