Fixer-uppers can be a smart option for those seeking affordable housing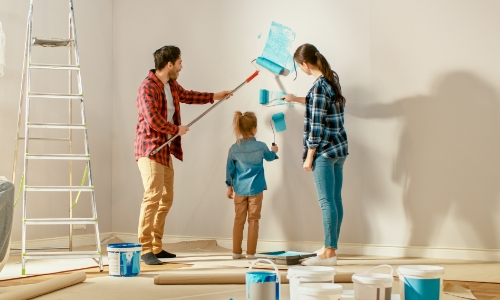 Between a tight supply and an increasing demand, finding an affordable home can be a difficult proposition for many prospective buyers. With rising mortgage rates and an improving economy, the housing market will increase in competition, according to Realtor.com
However, all those factors do not mean a prospective buyer should stop looking to make a home purchase. There are still many markets with affordable properties that consumers can tap into without exceeding their means or falling into the red on their mortgage loans.
One of the best ways to acquire an affordable property is to look for a fixer-upper, Jonathan Smoke, Realtor.com's chief economist said.
"The fixer-upper strategy, honed and popularized by the 'Property Brothers' of HGTV fame, is a viable way to address your home needs while being realistic about what you can afford," he said. "This strategy is better suited to areas with a good supply of older homes, which need more TLC."
Smoke said fixing up a home could be a smart move for millennials who don't have the same substantial savings as older generations. Millennials also tend to enjoy living in an urban area or near-suburban areas. Many decide to rent for this reason, but a fixer-upper might be a great way to score an affordable home in an urban area.
Are millennials equipped to improve an old home?
A large portion of millennials consider themselves to be more or just as handy as their parents. A survey from Better Homes and Gardens Real Estate revealed 72 percent of millennials believe they feel capable of fixing things and addressing issues, which is why homes that need a facelift might be attractive to the demographic.
Additionally, 82 percent of millennial respondents said they would prefer to do their own home improvements. Better Homes and Gardens discovered millennials are less likely than other generations to expect their next home to be newly built, as only 18 percent backed this claim. Meanwhile, 23 percent believe their next home will be one they can fix up.
The best markets for fixer-uppers
Smoke and his team at Realtor.com put together a list of the best markets to find fixer-uppers after analyzing more than 513,000 home listings for midsize single-family homes throughout the nation.
Realtor.com found 7,242 properties that met these guidelines and then calculated which markets has the best potential for homebuyers looking for a fixer-upper.
The top six metro areas with fixer-upper potential include Indianapolis; Tampa, Florida; Cleveland, Ohio; Chicago; Dallas; and Philadelphia.
Indianapolis was the top market with an average fixer discount of 50 percent compared to non-fixer homes that sell for a median average of $199,000. That means a home needing repair in Indianapolis might go for half the price of a home in good condition.
Chicago had the top fixer discount of major metro markets at 56 percent, but the Windy City finished in a tie for fourth with Dallas and Philadelphia because of a low supply of fixer-uppers.
Of the 233 markets analyzed by Realtor.com, only 25 had midsize, single-family homes that were move-in-ready for households making the local median income. However, households making the median income could find a comparable, fixer-upper home in 144 markets. The biggest difference between a move-in-ready home and a fixer-upper was in Atlanta, noted Realtor.com.
The information provided in these articles is intended for informational purposes only. It is not to be construed as the opinion of Central Bancompany, Inc., and/or its subsidiaries and does not imply endorsement or support of any of the mentioned information, products, services, or providers. All information presented is without any representation, guaranty, or warranty regarding the accuracy, relevance, or completeness of the information.