Holiday Marketing Trends For Your Small Business
As the holiday season approaches, simple marketing strategies can help your small business go a long way. Consider using these methods to gain an edge on large retailers.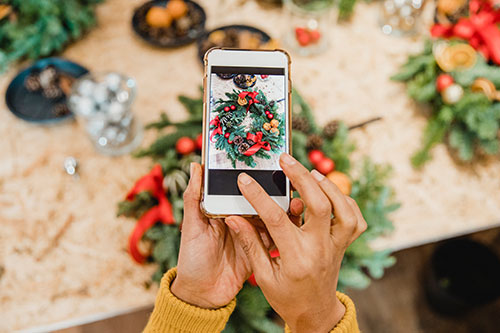 Utilize digital marketing.
During the business of the holiday season, digital marketing can reach your customers when other marketing forms may get lost in the shuffle. A few forms of digital marketing include social media posts, email marketing, video marketing, and using your small business' website to its full marketing potential. These methods are a great way to promote holiday contests, giveaways, and seasonal sales. A quick way to digitally showcase your holiday promotions is through your business' social media. Posting on your business' social media page is a great place to start, but also consider using the paid advertising opportunities available within the platform. Today's social media platforms have made it easier than ever for even the smallest businesses to purchase ad space -- often starting at just a few dollars.
Customer reviews are one form of digital marketing that can be easy to overlook. Shoppers can now check online reviews on their mobile device, while simultaneously holding the physical product in the store. Shoppers value customer reviews on products and the business itself. Small businesses may not have as established of a company reputation as large retailers; however, strong customer reviews will go a long way in showing the quality of your products and services. Forbes found "92% of consumers read online reviews of local businesses in order to determine whether these businesses are good or not. Make it easy for customers to leave a review. Also, consider incentivizing customers with a discount on their next purchase, gift-card drawings, or give your reviewers a small gift -- the options of incentives are endless. Their reviews may be the reason your business gains more customers.
Early advertisements are key.
For small business owners, the holidays come early. Placing advertisements before the month of November is essential for catching the consumer's attention. Typically, one-half of holiday season revenue is generated before the start of December. To stay ahead of the competition, offer your holiday sales in advance. Consider making a countdown email or social media post – creating content that displays the date of your sales can get customers excited. Also, observe what marketing trends large retailers are doing, then customize them for your small business.
Don't forget about Cyber Monday!
Cyber Monday is almost the equivalent of Black Friday, but without the frigid temperatures and mile-long lines. Customers can access the best deals from the comfort of their home. Don't miss out on the opportunity to be a part of this day. Over the last few years, Cyber Monday sales have grown rapidly, reaching upwards of $10 billion in online sales. Online purchases will continue to increase. Consider placing your small business in the competition for Cyber Monday shoppers this holiday season.
Offer perks and rewards.
Who doesn't enjoy a nice discount? Customers enjoy the opportunity to receive rewards, discounts, or perks. Offering a certain perk can draw customers to your business rather than the competition. Large retailers are often able to offer a variety of perks; therefore, it is important to use strategy in what perk will make your small business stand-out and compete. Perks such as free shipping, free returns, exchanges, and possibly providing coupons for future purchases will help your business stand out. As ecommerce continues to grow, these perks are becoming a necessity. Removing shipping costs and return fees allows customers to feel more secure in their purchases. Offering perks to your customers during the holiday season can build a lasting relationship and gain your business new, loyal customers.
Decorate for the season.
Deck the halls of your business! Holiday cheer attracts customers – even the occasional grinch. Consider decorating your brick-and-mortar store or updating your website to fit the season. Customers desire an experience as well as quality products. Customers will associate the warm and cheerful feelings of the holiday season with your small business. Your holiday spirit may influence purchases and potentially draw in more customers.
The information provided in these articles is intended for informational purposes only. It is not to be construed as the opinion of Central Bancompany, Inc., and/or its subsidiaries and does not imply endorsement or support of any of the mentioned information, products, services, or providers. All information presented is without any representation, guaranty, or warranty regarding the accuracy, relevance, or completeness of the information.