How a 529 plan helps with college savings
No matter if you're a student or a parent, it's never too early, or late, to start saving for your degree.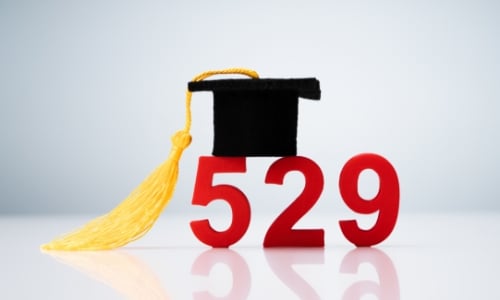 As a parent, you can help your child avoid the burden of student debt in the future. If you're currently in high school or pursuing a degree, you can still utilize financial vehicles to save money to help you afford tuition, books, supplies and more down the road.
Saving for college involves more than simply opening a savings account and setting aside money every year. With the rising costs of tuition, parents and students need to save as much as possible.
Now is the perfect time to explore your options to afford college for yourself or your child.
The 529 plan
The 529 plan is arguably one of the best tools to save for college. In fact, it is designed specifically for higher education.
The U.S. Securities Exchange Commission explains 529 plans as "qualified tuition plans; these plans are sponsored by the state, college or state-based agencies."
There are two types of 529 plans to consider: college savings plans and prepaid tuition plans.
College savings plan
First is the college savings plan. An account holder creates an account for a beneficiary, and then has the ability to choose from a variety of investment choices. A college savings plan is similar to a 401(k) or Individual Retirement Account because the money can be invested in stocks, bonds, mutual funds and more.
For example, if you set up a 529 college savings plan for your child when they're first born, you'll be able to choose an aggressive investment pattern. But as your child gets older, you can change the plan's approach to follow a more conservative path. Doing so will protect assets against potential market fluctuations.
The money in this account covers a variety of college expenses, including tuition, mandatory fees, rooming expenses and even the cost of books and laptops.
These accounts are open to both children and adults and have a $550,000 contribution limit that is subject to market risk. So while there are opportunities for investments to grow over time, it's possible that a college savings plan could suffer during tough economic times.
Prepaid tuition plan
Another type of 529 plan is a prepaid tuition plan. Accounts holders - the parents - purchase credits or units at schools that participate in these plans. Prepaid plans, which cover tuition and sometimes rooming costs, are sponsored by the state and have residency requirements.
The big difference with a prepaid tuition plan is that parents are essentially buying credits for current tuition prices. For instance, if you buy tuition credits in 2016 for your newborn child, the price won't change over the course of the next 17-18 years. The prepaid plan represents a cost-effective way to protect against rising tuition rates.
However, a prepaid tuition plan lacks the flexibility of a 529; The money can only be used for tuition and mandatory fees. A prepaid tuition plan does not cover other expenses such as books and other supplies.
'A prepaid tuition plan DOES NOT cover other expenses such as books and other supplies."
The biggest difference may be the fact that in order to use the credits, students must be a resident in the state where the plan was originally set up. This requirement limits students to attend in-state universities. You'll also have to factor in the plan your state offers, as not all states offer the best incentives.
Because of the differences between the two plans, parents and students will have to compare the advantages of each option to decide which is right for you. If your child is still years away from college, you will need to decide on the best option with the financial well-being of your child in mind.
Why use a 529 plan?
A 529 savings plan is a more attractive option than a standard savings account because of its design. With a 529 plan, the money can only be used for college, no matter if it's a college savings plan or prepaid tuition plan.
Additionally, the earlier parents set up these accounts, the more prepared they will be when college arrives. There's no telling how much the total cost of college will increase over the next 10+ years.
These days, virtually every student is guaranteed to leave school with some amount of debt. A 529 plan can help reduce that burden.
The information provided in these articles is intended for informational purposes only. It is not to be construed as the opinion of Central Bancompany, Inc., and/or its subsidiaries and does not imply endorsement or support of any of the mentioned information, products, services, or providers. All information presented is without any representation, guaranty, or warranty regarding the accuracy, relevance, or completeness of the information.