How to save money when having a baby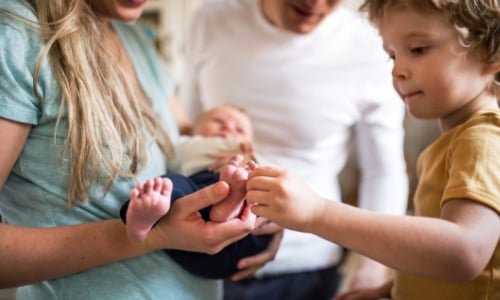 Welcoming a new member to the family can be a joyous and fun occasion. From shopping for baby clothes to picking out the exact color of the nursery, having a baby can be a great moment in a parent's life. Although this can be an exciting time, it can also be an expensive one. Hospital bills, clothes, food and doctor visits for your little ones can begin to add up and deplete your checking account. According to the U.S. Department of Agriculture, a middle-income family will spend more than $165,000 to raise a child to the age of 18, Parents Magazine reported. This can be a major financial burden, so it is important to begin saving as early as possible. Here are a few ways you can save money and cut costs when preparing to welcome the arrival of a child:
Inspect your current financial state
Before you look for deals to help you save some money on food and baby proofing equipment, you should first take a look at your current financial state. There may be many financial roadblocks along the way of having a child, so you should make sure you will not have any difficulties paying for necessities. Start off by minimizing your debts and ordering a credit report. A good credit score can make all the difference when you are trying to apply for mortgages and other loans, which comes in handy when trying to raise a child.
Look at different hospitals
Hospitals can be one of the most costly expenses of having a baby. From overnight costs to doctor fees, you will need to save quite a bit of money to welcome your newborn into the world. To help save a little money for these costs, look over your current health plan and see what it covers. Parents Magazine said that an HMO or PPO will cover more of the costs opposed to general health plans. It would also be beneficial to shop around hospitals and see what each one will charge you.
Hold off on mass buying at first
It may be a fun activity to look at little baby outfits and state-of-the-art strollers, but you should hold off on making major purchases before your little one arrives. Your children grow up fast, so it may not be financially beneficial to buy hundreds of dollars in clothes and then see them quickly outgrow these outfits. Keep your purchases conservative during this time and only buy the bare essentials such as food and a few pieces of clothing.
To help save a few extra bucks, check out thrift stores or ask friends if they have any hand me downs you can have. Safety is a number one concern for a youngster, so make sure these slightly used items are clean and are working to their full capacity.
Set up a college savings account
It is never too early to start saving for your children's future. Education is an important part of their life, but it is a very expensive one as well. You can store some extra cash in a specific savings account for this endeavor, and you can also look into setting up a 529 plan. This educational savings plan will allow you to set aside funds that are intended to be used for college costs. Once you put money into this account, it will grow over time, which can make it easier to pay for college-related expenses.
This financial plan also allows you some tax breaks, which can make it easier to save money for your child. Each state has different tax breaks for this plan, so be sure to investigate your options before you enroll.
The information provided in these articles is intended for informational purposes only. It is not to be construed as the opinion of Central Bancompany, Inc., and/or its subsidiaries and does not imply endorsement or support of any of the mentioned information, products, services, or providers. All information presented is without any representation, guaranty, or warranty regarding the accuracy, relevance, or completeness of the information.