Landing Your First Job: Tips to Get Your Foot in the Door
Discover the secrets to expanding your career opportunities and making meaningful connections through effective strategies and valuable experiences.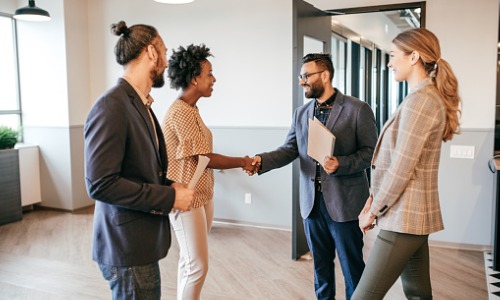 For those with little experience, securing your first job can seem challenging, especially when everyone appears more qualified. Learn tips and strategies to help you get your foot in the door and increase your chances of landing your first job.


Networking
Networking can provide insights into the latest developments in your field. You can learn about new job opportunities, and connect with potential employers. Building strong relationships can unlock many opportunities, and when used wisely, networking has the potential to work wonders.
Referrals
Expanding on the power of networking, referrals play an important role. Chances are, you have connections within your industry. It's worthwhile to consider asking for a referral, as some employers incentivize employees who refer qualified candidates. This creates a win-win situation for you and your friend, presenting a fantastic opportunity to explore.
Career Fairs
Career fairs offer a great opportunity to connect with numerous employers across many industries. Whether they are general or industry-specific, these events provide the best chance to engage with companies actively seeking new talent. Many fairs share a list of attending companies, allowing you to plan interactions with your preferred employers. This proactive approach can significantly improve your chances of finding job opportunities and making meaningful connections.
Company Websites
The company website is a valuable resource when searching for employment opportunities. It offers a comprehensive list of current job openings, allowing you to explore a wide range of options. You have the flexibility to research specific companies of interest or utilize dedicated employment websites to gain insights into various job prospects. Regardless of your approach, relying on company websites ensures you have access to up-to-date job listings and relevant information to aid in your job search journey.
Internships
Internships offer a dual benefit – they enable you to connect with new individuals within a company and serve as valuable learning opportunities. With its relatively short time frame, internships provide an ideal platform to sample a potential career path. If you find the experience fulfilling, you can transition into a permanent position. On the other hand, if you discover the role isn't the right fit for you, you leave with the clarity of knowing what you prefer not to pursue in your career.
By incorporating these strategies you will certainly get your foot in the door and you will have plenty of opportunities for your first job.
The information provided in these articles is intended for informational purposes only. It is not to be construed as the opinion of Central Bancompany, Inc., and/or its subsidiaries and does not imply endorsement or support of any of the mentioned information, products, services, or providers. All information presented is without any representation, guaranty, or warranty regarding the accuracy, relevance, or completeness of the information.