Low gas prices help the housing market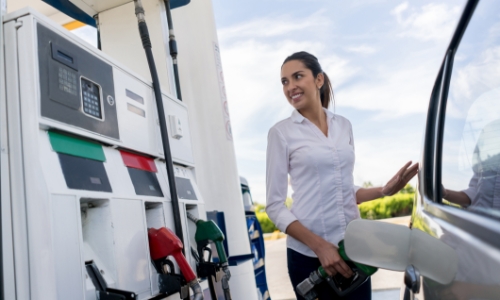 Falling prices at the gas pump may be doing more than some people expect. According to Maggie Parker of Comstock Homes, the lower fuel prices people have seen across the country could actually provide a spark to the nation's real estate market [1].
"Anything that impacts anyone's monthly budget so significantly as the cost of gasoline will tend to make them feel better about moving up, buying a new home," Parker told CNBC "Our traffic is very high, and sales are quite good especially during the typically slow December season, so it has had a very positive impact on the confidence of our buyers."
Parker believes lower fuels costs have helped improve consumer confidence, and when people are confident about the economy, it usually leads to more home purchases.
Chicago, which typically has some of the most expensive fuel prices in the Midwest, recently notched a five-year low for gas prices, according to WBBM-TV, a Chicago affiliate of CBS [2].
Phil Flynn, senior energy analyst at The PRICE Futures Group, told WBBM lower prices have been the result of falling crude oil prices.
"It's a nice Christmas present for most of America," Flynn said.
Prices at most Chicago gas stations recently fell below $2.50 per gallon. At the time, the national average was $2.37 per gallon, according to GasBuddy.com.
An estimate from a financial institution reported the 23 percent drop in gas prices pads the wallet of the average American by $100 per month. That additional monthly income is the equivalent of an 11 percent upswing in purchasing power for a starter home.
"For most Americans it's a huge tax break," Richard Dugas, CEO of Atlanta-based Pulte Homes, told CNBC. "If you think about the consumer confidence impact, the thing that really drives housing is how people feel, and when they have more money in their pocket they feel better."
Predictions for the housing market
Gas prices will continue to drop in 2015 and the economy should improve in certain sectors, according to a report from Nova Southeastern University [3]. The university expects unemployment to remain below 6 percent while the nation's gross domestic product increases more than inflation in the coming year, which could be good news for the housing market.
However, one downside to the report was the nation's housing market would still see climbing appreciation values. When values rise, affordability levels fall.
Fortune Magazine polled a group of housing experts and there was a general consensus that home prices would increase less dramatically in 2015 but affordability levels would still fall.
Home prices increased 6.4 percent in October from the same month a year prior. The year-over-year increase from October 2013 was a 10.6 percent rise in home values. Fortune stated home values should increase at a slower pace because of the economy following the burst of the housing bubble has slowed to a standstill.
Tips for future homebuyers
For those considering a potential home purchase, there are a few steps to take to make the process a bit smoother.
Fox News urges prospective buyers to consider all the costs of owning a home, not just the closing costs and monthly mortgage payments. Along with taxes and insurance, homeowners should also add in utility costs and other home service bills - such as cable and Internet bills - when estimating the cost of owning a home.
It's best to plan a budget with all the costs of owning a home. This will help homeowners get a better grasp of what they can afford and could help them from going into the red after making a purchase.
[1]. How low gas prices fuel the housing market
[2]. Merry Christmas: Gas Prices At Five-Year Low
[3]. The Holiday Season Brings a Mixed Economic Forecast for 2015
The information provided in these articles is intended for informational purposes only. It is not to be construed as the opinion of Central Bancompany, Inc., and/or its subsidiaries and does not imply endorsement or support of any of the mentioned information, products, services, or providers. All information presented is without any representation, guaranty, or warranty regarding the accuracy, relevance, or completeness of the information.