Mortgage checklist [Infographic]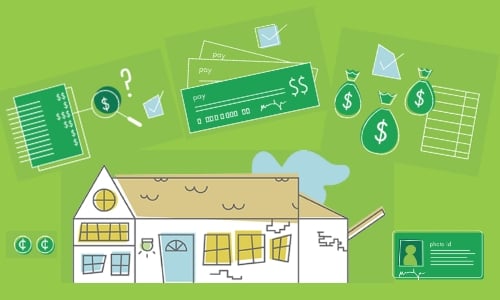 Applying for a mortgage loan can seem like a daunting task - especially for first-time homebuyers. But that doesn't mean preparing for the application process has to be a nerve-racking event. Those who are aptly prepared with the proper documentation are much more likely to avoid any headaches that might materialize during the loan approval process. Here are a few documents every loan applicant should have ready once you've decided to proceed with the loan:

1. Identification. Loan applicants should always carry a photo ID - such as a driver's license - and social security card so the lender can verify buyer identification and detect any possible fraudulent claims. A passport also works in most cases.
2. Property tax bills. If you already own a home and are choosing to take out another loan, a property tax bill is crucial for lenders. This document helps lenders calculate your debt-to-income ratio.
3. Mortgage statements. As with property tax bills, your existing mortgage statements allow a lender to see what you are currently paying for your home so they can better calculate the your debt-to-income ratio.
Lenders might also choose to carry out a market analysis in order to verify if you have equity in the property. If you are underwater on your current home, you may not be eligible for another home or mortgage loan.
4. Copies of rent checks. If you are currently renting, lenders may ask for copies of past rent checks to verify potential lending risk. When applying for a loan, be prepared to present the last 12 months of rent checks to show you've paid on time and in-full each month.
5. Bank statements. Checking, savings, and investment account statements for previous months are required to verify assets and income. Borrowers should also be prepared to account for any monetary gifts they may have received.
6. Tax returns and proof of income. Providing two years of tax returns, W-2s, and 30 days of paystubs gives lenders the ability to see your proof of income. If applicable, you will be required to present Social Security or Pension award letters. If you are self-employed, be prepared to bring an annual profit and loss statement.
7. Retirement and investment accounts. Mortgage loan applicants should also provide lenders with any data regarding their long-term savings. Savings acts as money toward reserves, which will benefit applicants when applying for a mortgage.
Please keep in mind this is not an end-all list. Documents needed to process your loan will be determined by your unique situation, as additional documentation may be required. It's important to contact your lender in advance to make sure you have all of the required documentation to proceed with the loan.
The information provided in these articles is intended for informational purposes only. It is not to be construed as the opinion of Central Bancompany, Inc., and/or its subsidiaries and does not imply endorsement or support of any of the mentioned information, products, services, or providers. All information presented is without any representation, guaranty, or warranty regarding the accuracy, relevance, or completeness of the information.