Simplify your life with digital banking
The world of banking is constantly changing. With the development of online banking, soon followed the commodities of online bill pay, mobile banking, mobile check deposits, person to person payments, digital wallets, and more. These simple solutions were all made to do one thing – add convenience to your banking experience.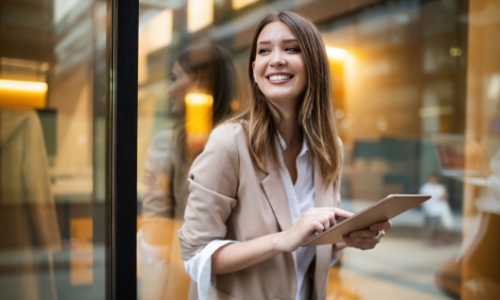 Yet so few have made the switch and adapted to these new technologies.
What does "Digital Banking" really mean?
Digital banking is centered on one main factor - making your life easier. You have the ability to bank when and where you want, on your terms. Here are a few examples of what it means to bank digitally:
Make a transfer from your checking to your savings account, using your smartphone or computer
Pay your friend back for dinner last night, using your smartphone or computer
Deposit a check by taking a picture with your bank's mobile app
Make a purchase using your smartphone with the touch of your fingerprint authentication
Pay your bills on your morning commute (only if you're riding, of course!)
Track your savings goal for your upcoming wedding, vacation, or other big life event
These digital banking features are all ways you can manage and maximize your money on the go, making you more connected to your finances than ever before. No more special trips to the bank or waiting until the bank opens tomorrow morning to take care of your financial duties? Yes please! If you want to see for yourself, why not give our Mobile Banking app a try?
Is "Digital Banking" actually secure?
Yes, today's technologies are secure and new security enhancements are created and explored every day. Proven technologies are used to keep your personal information secure while utilizing the convenience and ease of mobile banking apps, including:
HTTPS and 128-bit SSL encryption
Automatic time-outs when your PC or mobile device is not in use
Multiple layers of authentication (i.e., user ID, secret word, fingerprint verification, and password)
Strict password requirements
Masked account information or the use of nicknames for your personal account
Digital or in-person - which banking experience is better?
Many customers choose both. The experiences are similar, yet incomparable when you get down to the nitty gritty. While the digital experience provides the extra ease and simplicity of completing a banking transaction from anywhere, at any time, there is something to be said about sitting down with a banking specialist who knows you by name. Deciding between the two comes down to how comfortable you feel and how much guidance you need when it comes to making your next major financial decision.
The Jefferson Bank Mobile App, is frequently updated to provide you with an enhanced mobile banking experience. While our app is completely secure and your personal information is never stored, there are precautions you can take as a safeguard, not only with your mobile banking app, but with any of your smartphone apps:
Access your smartphone applications using a secured network, such as a password protected Wi-Fi
Update your password regularly, use a complicated password, and use a password that is not tied to other online accounts (i.e., email, social media, other bank accounts)
Use a passcode on your smartphone to add an extra layer of authentication
Make sure your app is up-to-date and that you have the latest download
As always, if you feel as though somebody is trying to get in to your account or that you are a victim of fraud, please contact us immediately by phone at (866) 777-7912 or phishing@centralbancompany.com.
The information provided in these articles is intended for informational purposes only. It is not to be construed as the opinion of Central Bancompany, Inc., and/or its subsidiaries and does not imply endorsement or support of any of the mentioned information, products, services, or providers. All information presented is without any representation, guaranty, or warranty regarding the accuracy, relevance, or completeness of the information.