Small businesses need to find the right platforms to engage consumers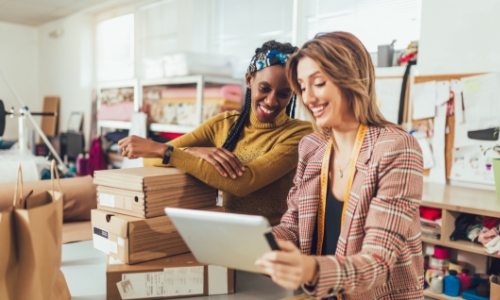 It's a common inquiry among small-business owners: What does successful marketing entail in the ever-changing world of business commerce?
It's a tricky subject for many because marketing and advertising continues to change platforms. It went from being primarily print-based before turning to radio and television. While TV is still the dominant platform for advertising, a large portion of marketing and advertising is now done online.
For example, the food chain Quiznos will completely avoid television ads in the future, according to Entrepreneur. Tim Kraus, innovation director for the sub sandwich joint, told Entrepreneur the company is changing it's marketing stance as it comes back from a financial collapse.
"Our advertising budget is kind of split between print media and digital, with a higher weight on digital advertising," Kraus said. "Within that, probably our primary focus is on video."
But why would Quiznos shy away from television?
"We've been around for 30 years, and we were a big TV advertiser, we were a big print media advertiser," Kraus said. "And, we just saw the returns on some of these campaigns diminish. The consumers we're trying to target are spending way more time online."
Other businesses should take note. Brett Wilson, CEO of TubeMogul, a leading enterprise software platform for digital branding, said small businesses "can't be everything to everyone." He recommended business owners should try to focus on locating their core audience.
Make investments in platform that is appropriate for a company's needs
Social media channels are one effective, cost-efficient way to lure potential clients. In many cases, consumers turn to social media channels when they have a question about a particular service or product, according to Forbes.
That's why it's important to craft a social media page that consumers feel comfortable engaging with. Businesses can create polls or questionnaires to spark debate, which allows a company to have a better feel for what types of advertising and interaction work with their consumers.
People often enjoy interacting with their favorite brands. By providing a friendly forum on social media, consumers feel they are contributing to the company and will be more likely to come back for more.
Ann Tran, a social media consultant and contributor with Entrepreneur, recommended business owners view social media as part of their job, not something fun they do on the side. The source urged businesses to follow and reply to their customers and be active in the community.
However, a business shouldn't post or tweet just for the sake of creating content. Limiting the number of posts a day is a smart way to make content feel marquee. When a company posts too many messages in a particular timeframe, their audience can feel bombarded and it might spur a few unfollows.
The flexibility of online marketing
One of the most favorable aspects to online marketing is a company's ability to track their advertisements. With online video and social media sites, it's very easy to see what kind of content spurs interaction and what type of video or posts go unnoticed.
For example, Twitter analytics can show a business the total number of engagements a post receives, including the amount of clicks to a particular link.
Quiznos is doing just that. By using smaller digital campaigns instead of costly television advertisements, the food company can see what type of advertisements spark consumer engagement.
"We want to make sure wherever our audience is going, that's where we have to go," Kraus said. "So if they switch to consuming video content on their mobile device, or their tablet or their desktop computer, that's where we have to be as a brand."
The information provided in these articles is intended for informational purposes only. It is not to be construed as the opinion of Central Bancompany, Inc., and/or its subsidiaries and does not imply endorsement or support of any of the mentioned information, products, services, or providers. All information presented is without any representation, guaranty, or warranty regarding the accuracy, relevance, or completeness of the information.