Tie the knot without breaking the bank [Infographic]
It's no secret weddings are an expensive celebration. In fact, these parties and ceremonies cost anywhere between $26,000 and $28,400 on average, according to CNBC.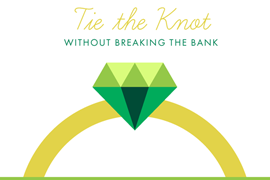 "There is no need to spend tons of money on a wedding when the most important thing is to make it personal," Kathleen Kennedy, a chef, stylist and event planner, told Bankrate.
While everyone wants to save money, it's important to know how to cut corners on this special day without compromising too many details. After all, it's a celebration of love you've been looking forward to your entire life.
Gifts that make the most financial sense
Before heading to a store to create your wedding registry, consider asking guests for a monetary gift you can use toward a down payment on a house or a honeymoon registry. These gifts will help alleviate extra costs you would otherwise endure down the road after dropping thousands of dollars on a wedding celebration.
In addition, asking guests to provide funding for these activities is a great way for people to give a gift they know will be remembered for years to come.

Get creative with the dress
In love with Vera Wang? Pnina Tornai? Marchesa? These designers are no doubt expensive and might not fit into an established budget, but wearing a luxury wedding gown is possible with a rental option. With websites like Rent the Runway and Weddington Way, brides can save money and still wear their dream dress, noted Brides.com. Renting a gown instead is a great way to save on the big day, especially when it's such an expensive purchase that you will only wear once.
Another option that might be appealing to brides is working with a relative or friend who knows how to sew. Consider designing a dress yourself and creating it from scratch to help save some money and still look gorgeous on the big day.
Pick an affordable time and location
A dreamy wedding in the backyard of a childhood home allows brides and grooms everywhere to say their vows in a sentimental location that won't cost an arm and a leg.
Another way to save on location is to hold both the ceremony and reception at the same spot. This will eliminate the cost of transportation and the need for different vendors, which also saves money.
Holding a wedding in a park or forest reserve are other economical venues, according to Bankrate.
Hosting a wedding during the off-season is an effective way to eliminate extra costs. Demand for venues, vendors and other services will not be as high during this time.
Forget the favors
While favors are a tradition for married couples to provide for their guests, it's an expense individuals can easily cut out of their party plans. Instead of a trinket guests might lose or forget, focus on providing an enjoyable wedding experience for everyone.
Food for thought
There are a number of ways to save money when it comes to the food served at a wedding reception. Daytime receptions allow for a brunch or lunch option, which is more affordable, noted Real Simple. Another way to cut the cost of food is by investing in combination meals.
"Serve a couple of grilled shrimp with a couple of beef medallions," Sharon Naylor, author of '1001 ways to save Money...and Still Have a Dazzling Wedding', told Real Simple. "This cuts down on the cost, since the chef doesn't need to buy enough of all the entrées to allow for people to change their minds."
In addition, buffet dinners are less expensive when compared to a traditional sit-down meal that is served by waiters and waitresses.
Invite the bridal party to help out
Instead of shelling out a great deal of money for expensive invitations and save-the-dates, consider having the bridal party or groomsmen help create customized versions of these. In addition to saving money, this also is a great way to have a little fun together and bond.
Creative Decor
When deciding on decorations, always try to repurpose certain elements. For example, stacking colorful cupcakes in the center of a table is both decorative and functional. Guests can view a beautiful centerpiece and enjoy a delicious dessert when it's time without waiting in line for a slice of cake.
Another way to save money on wedding decorations is to use household items. Mason jars, vintage drawers from old dressers, old corks from bottles of wine and blooms from your own garden can all be used to create a beautiful wedding without breaking the established budget.
Be the DJ
Instead of investing in a live band or DJ, create a playlist and play that the entire night. Ask for requests from the guests as well to ensure everyone can get their boogie on.
Weddings can be expensive. However, they can be tailored to match any budget when couples make resourceful planning decisions.
The information provided in these articles is intended for informational purposes only. It is not to be construed as the opinion of Central Bancompany, Inc., and/or its subsidiaries and does not imply endorsement or support of any of the mentioned information, products, services, or providers. All information presented is without any representation, guaranty, or warranty regarding the accuracy, relevance, or completeness of the information.