Tips to building equity in your home
Building equity in your home can be helpful for things such as selling your home as well as taking out a second mortgage. As long as you are paying your mortgage payments on time and maintaining your house, you are continuing to build equity. But what are some ways that you can spend a little to build even more?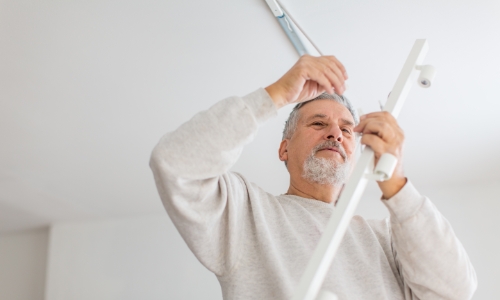 1. Take to the kitchen. One of the biggest places to gain value in your home is the kitchen. It is where people first look when they enter a new house. How the kitchen flows and the age and look of the appliances are both visual aspects that can add or takeaway some of the value from your home. Here are some cheaper, easy fixes to consider:
Replace the faucet. Find a more modern, updated kitchen faucet for an updated look. The average cost to replace a faucet ranges from $172 to $246 depending on where you live and what product you're looking to buy [1].
Paint. Consider painting your kitchen cabinets a different color can make your kitchen look completely new. This will cost you on average $95 depending on where you live [2].
Lighting. Along with brighter paint, comes brighter lighting. Switch outdated, dim fixtures out for new, livelier lights that better represent your space. On average, replacing light fixtures will cost $439 [3].
2. Crisp curb appeal. As one of the first things that people see, your front yard can dictate home value too. Try and focus on:
Front door. Replace the door knob if it is looking old and consider painting your door. Having an appealing door gives the impression that your house is welcoming and sophisticated. Average price for a doorknob is $15 to $50 per lock and paint averages from $10 to $60 depending where you buy, what sort of paint you are looking for, and how much paint you need [4].
Small-scale landscaping. Adding flowers and trees can add curb appeal also. Consider going to your local home improvement store or tree farm and pick out plants you like. On average, adding a tree can cost about $138 [5].
3. Enhance your bathroom. Since this is a place that people use daily, it should be in good condition. Aside from the functionality of it, try and decorate this room so it's a place that you don't mind spending time in.
Showerhead. Switch out your old, dingy showerhead for a new, elegant one. The average cost to replace your showerhead is about $60 [6].
Decorations. Although a nice showerhead can look amazing, it's important to stage the rest of the bathroom to match. Think about the color theme you want in your bathroom and choose a nice shower curtain to match. Decide whether you want your bathroom to be a place of serenity or energy and go from there. For more relaxation, try and stick to neutral colors. For energetic vibes, find two bright colors that you want to pair together. Look for artwork and other decorative items that reflect your theme.
[1] How Much Does it Cost to Install a Faucet? Home Advisor
[2] Cost to Paint Kitchen Cabinets, DIY or Not
[3] How Much Does it Cost to Install a Lighting Fixture? Home Advisor
[4] How Much Does a Door Lock Cost? CostHelper
[5] How Much Does Planting a Tree Cost? Pro Referral
[6] Cost to Replace a Shower Head, DIY or Not
The information provided in these articles is intended for informational purposes only. It is not to be construed as the opinion of Central Bancompany, Inc., and/or its subsidiaries and does not imply endorsement or support of any of the mentioned information, products, services, or providers. All information presented is without any representation, guaranty, or warranty regarding the accuracy, relevance, or completeness of the information.