Vacationing on a Budget
Vacationing on a budget can be challenging, but it is possible.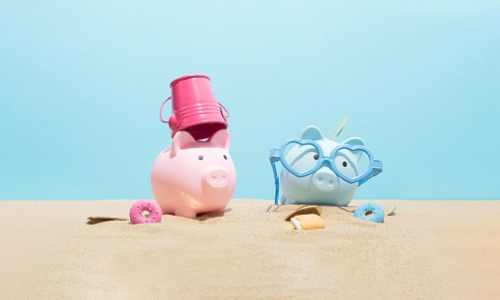 With a little bit of planning, you can have a fun and memorable vacation without breaking the bank. Use these tips to stay within your budget on your next vacation!
When planning your vacation:
Choose a budget-friendly destination

When you think of taking a vacation, you may have ideas of visiting popular destinations. Instead of going somewhere crowded and popular, you may want to look into visiting less popular areas for your upcoming trip. Consider traveling during off-peak times. Doing so can help you save money because some tourist spots simply don't attract as many visitors.


Flight

Check for hidden fees: Some airline carriers might have flights available that look inexpensive upfront but charge for everything else. This can include baggage fees, your seat selection, and changing your flight. These fees add up and can be costly.

Pack Light: If your flight only includes a free carry-on and a personal item, avoid purchasing a checked bag and pack light.

Arrive at the airport early: On your way to the airport, you might run into problems that are out of your control. Things like road construction, weather or traffic can add time to your drive. Many airports offer Kiosks for you to check into your flight, which might take longer. Give yourself plenty of time so you won't have to stress about being late. If you're traveling within the United States, arrive at least two hours prior. If you're traveling internationally, arrive three to four hours prior to your flight.


Accommodation

Stay outside the city: Consider staying outside of the city you're visiting to cut lodging costs.

Hotels: Try to stay at a business hotel on the weekend and a leisure hotel during the week when prices are optimal.

Rentals: Airbnb and Vrbo rentals are cheaper than you think. If you decide to book one, make sure you read the terms and conditions for liability charges or if your booking was to get canceled.


Transportation

Renting a car can be expensive due to high fees and added taxes. Consider only renting a car to get to your destination. After you arrive, take advantage of rideshares such as Uber or Lyft to reduce transportation costs. You could also consider renting a car for a reduced cost through peer-to-peer apps like Getaround, Turo, or HyreCar.

When you reach your destination:
Meals

Take advantage of complimentary meals: Some vacation destinations, such as resorts, often include all-you-can-eat packages as part of your stay. Hotels will often offer a complimentary breakfast, as well.

Cook your meals: If you're staying at a place with a kitchen or kitchenette, head to the grocery store and stock up the fridge.

Go out for happy hour: When you want to go to a local restaurant, save money by going out for lunch instead of dinner. Usually restaurants offer reduced rates during 'happy hour' if you go before a certain time.


Watch your spending

Continue to be aware of how much you spend while vacationing. Relying too much on your credit during a trip can set you back financially when you return, unless you plan to pay off your debts in the months to follow.

Look for free activities: Many destinations have free activities and attractions. Look for parks, museums, and historical sites that are free to visit.


Don't be afraid to mingle with locals

Ask the staff of a hotel or a waiter at dinner what their favorite activities are in the area. While you might not get that lucky, asking around never hurts. Locals can usually tell you which restaurants have good deals on particular nights, or which attractions don't come with a heavy entrance fee.
Wherever you decide to go on a vacation, remember to use these tips to help you save money on your getaway.
The information provided in these articles is intended for informational purposes only. It is not to be construed as the opinion of Central Bancompany, Inc., and/or its subsidiaries and does not imply endorsement or support of any of the mentioned information, products, services, or providers. All information presented is without any representation, guaranty, or warranty regarding the accuracy, relevance, or completeness of the information.