Wedding insurance is a must on your big day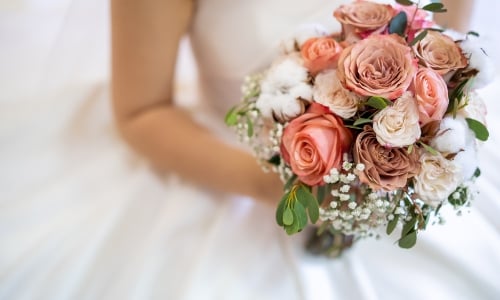 Planning a wedding is as intricate as you want it to be. Every couple has different ideas when it comes to their big day. A table setup that works at one reception might not be welcomed at another.
Some couples aim to have their wedding be as big of a celebration as possible by inviting hundreds of guests and generally providing a good time. Other weddings can be of the low-key variety, where only a handful of relatives and close friends are invited.
While the summer wedding season is in full swing, fall is another popular time of the year to tie the knot. As your wedding date quickly approaches, there's no doubt you already feel a bit overwhelmed by everything you have to get and account for.
But there's one more thing to add to your to-do list: buy wedding insurance. Yes, it's real, and it could end up saving you money.
What is wedding insurance?
Wedding insurance is not all that different from health or home insurance because your investment will be protected from events out of your control. The Knot cited an example of having to call and book a much more expensive limousine the morning of your wedding because the original driver didn't show up [1].
This is where wedding insurance will come in handy. No matter how hard you plan for everything to go according to plan, surprises will make an appearance. If you're lucky, they'll only be minor. But major disruptions can end up costing you money and valuable time.
Why should I get wedding insurance?
Consider the cost of the average wedding. The Knot stated that in 2015, expenses for a wedding were around $32,641 [2]. Even less expensive weddings will likely cost a few thousand dollars factoring in the cost of renting out a space, live band or DJ, food, drinks, and more.
The last thing you'll want to see or hear about is an emergency that will basically force you to open up the checkbook even more. With wedding insurance, while it is an extra expense, you can find solace knowing it will protect you in just about any circumstance.
What's covered?
Most wedding insurance policies will cover the basics such as:
Vendors
Site
Injury
Sickness
Weather
Since many weddings are booked and finalized well in advance, you'll be able to rest easy knowing that almost every possible situation is covered. However, wedding insurance doesn't guard against everything. Damage to engagement rings or pieces of jewelry is not protected. And in a worst-case scenario, cold feet isn't covered either.
"Wedding insurance will protect you up to a certain amount."
Like other insurance plans, wedding insurance will protect you up to a certain amount. As such, you'll need to talk to an insurance agent to understand what you're paying for and what's covered. You don't want to encounter a situation that you think will be covered, only to find out it actually isn't.
How much does it cost?
Costs will vary depending on the level of coverage you wish to have. According to The Knot, basic plans may range from $155 to $550.
General liability insurance will run about $185, but can cover $1,000,000 in accidents.
The great part about wedding insurance is that you can work with the provider to decide what areas you want covered. While it's understandably difficult to predict where issues may arise, you'll at least be able to safeguard yourself. At the very least, talk with the vendors you've hired and the wedding site to see if they already have insurance policies in place.
This way, you won't be paying for overlapping coverages and can instead take out an insurance plan that covers costs in case someone falls ill. If the vendors already have policies in place, you can take out a policy that may offer coverage over almost every facet of your wedding.
Wedding insurance is a cost you might not know you need, but one that you should have. These big, extravagant days typically require months of planning and can be looked at as an investment for your future.
Since this is the case, you want to protect yourself from even the slightest surprise on your big day.
[1]. Wedding Insurance 101
[2]. Wedding Money: What Does the Average Wedding Cost?
The information provided in these articles is intended for informational purposes only. It is not to be construed as the opinion of Central Bancompany, Inc., and/or its subsidiaries and does not imply endorsement or support of any of the mentioned information, products, services, or providers. All information presented is without any representation, guaranty, or warranty regarding the accuracy, relevance, or completeness of the information.