Your comprehensive wedding planning checklist
Congratulations on your recent engagement! Maybe you've been planning your wedding since you were five, or maybe you've been avoiding looking into what the whole process entails.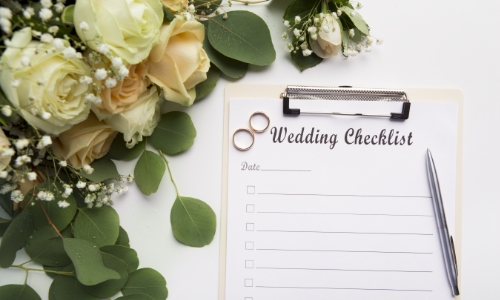 Either way, our checklist will help you make sure you're not forgetting anything leading up to your nuptials.
Post proposal:
Set a date. Be sure to have a few potential back up dates in mind. Picking a date a year or so in advance will allow you to have a more than adequate amount of time to plan your event.
It's important to think about what season you want to get married in and the weather that comes along with that season. For example, if you're planning an outdoor wedding in the spring, it would be very wise to have it at a venue that could accommodate an indoor wedding in the case of rain.
Create your budget that has a little padding in case your plans need to change. Use our Money Manager tool for help with budgeting and saving.

Make your ideal guest list so you can figure out what capacity your venue should be able to accommodate.

Research venues for your ceremony and reception.

Start compiling all of your ideas into a binder or a Pinterest board.

Decide on a color scheme. This will help guide your upcoming decisions on bridesmaid dresses, flowers, table centerpieces, invitations, etc.

Designate your bridal party. There's no need to ask these women to be your bridesmaids in an extravagant way - flowers and a nice note will do the trick quite nicely. Four is the average number of bridesmaids according to She Finds, but after all it's up to you [1].

Start meeting with potential caterers, photographers, bakers, etc. Bring your groom, bridesmaid, or parent for a second opinion.

If you want your wedding to be planned by a professional, book your wedding planner.


10-12 months out:
Visit potential venues and book the one that's right for your wedding.

Shop around for your wedding dress and veil. Decrease dress stress by giving yourself enough time to find the one. If you give yourself a longer period of time before your wedding, you'll have an adequate amount of time to have alterations done for the perfect fit on your big day.

Book a caterer, photographer/videographer, florist, and DJ. Don't procrastinate on hiring for these services because they'll become unavailable quickly.

Reserve an officiant.

Schedule your engagement photo session.

Start compiling a list of addresses for everyone on your guest list so that you can send save the dates and invitations when the time comes.


9 months out:
Pick out your jewelry and shoes. This would be a good time to remember the, "something old, new, borrowed, and blue" saying.

Decide on bridesmaid dresses and accessories.

Start preparing your gift registries and make a wedding website if wanted.

Reserve a block of hotel rooms near your venue for out of town guests.

Pick out your table settings and make sure they match your color scheme.

Get the ball rolling on honeymoon planning.

If you're wanting to get in better shape for your wedding, this is as good a time as any to put your diet and exercise plans into action.

Decide on the songs you want to be played for your first dance, the father/daughter dance, and the mother/son dance.


6-8 months out:
Send out save the dates. The Knot points out that it's best to send them out even earlier if you're having a destination wedding or if you're getting married over a holiday weekend [2].

Decide on the flavor and design of your wedding cake.

Look into different hair and makeup styles. Now would be a good time to do a "test-run" with potential hair and makeup stylists, then book them if you're happy with their work.

Decide on groomsmen attire and make sure each man orders the correct apparel.

Choose the attire for the ring bearer and flower girl, including the ring bearer's ring pillow.

Have a plan in place for transportation to the reception from the ceremony, if needed.

Reserve a venue for your rehearsal dinner.


4-5 months out:
Pick out flowers for bouquets, boutonnieres, corsages, ceremony decorations, and centerpieces.

Order wedding invitations.

Book honeymoon flights and hotel stays.

Place wedding ring orders.

Buy wedding favors if your budget allows.

Finalize reception menu with caterer.


1-2 months out:
Finalize the details of your ceremony, such as who will read your selected readings, what songs will play, and order programs.

Send out wedding invitations. Come up with a system to organize the RSVPs, such as an Excel sheet.

Confirm the date and time with all of your vendors.

Come up with a reception seating chart if needed.

Attend your final dress fitting.

Buy gifts for your bridesmaids, you and your fiancé's parents, and your fiancé.

Write your vows.

Get your marriage license.


2 weeks out:
Relay the official head count to your caterer.

Prepare tips for all of your vendors.

Get one final haircut and color.

Pack for your honeymoon.


1 day out:
Have your nails done. It's pampering time!

Get lots of sleep the night before your big day. Tomorrow is going to be the busiest and best day ever!


This list can seem long and overwhelming and can be done in a much short timeframe if you're up to it! If you're engagement is shorter, simply use this as a timeline to help you cross the to-dos of your list. Trust us, all of the time and hard work you put into planning will be more than worth it on your beautiful wedding day. Cheers!
[1] Your Go-To Extensive Wedding Planning Checklist, She Finds
[2] Save-the-Date Etiquette, The Knot
The information provided in these articles is intended for informational purposes only. It is not to be construed as the opinion of Central Bancompany, Inc., and/or its subsidiaries and does not imply endorsement or support of any of the mentioned information, products, services, or providers. All information presented is without any representation, guaranty, or warranty regarding the accuracy, relevance, or completeness of the information.