"You've Won!" Scams: What to Know
Almost everyone dreams of winning a lot of money or a vacation. Sadly, scammers still use the lure of prizes to get your money or personal information.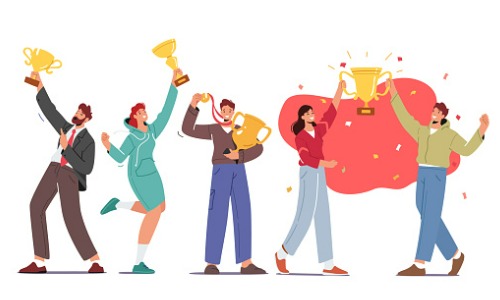 It's common to receive calls, letters, emails, or text messages claiming that you have won something. However, it's important to be cautious as you may be dealing with a scam.
Fortunately, there are ways to determine whether you're dealing with a scam or not. It's important to educate yourself on these tips to avoid unintentionally paying a scammer or revealing your personal information.
Here's how they work:
The individual who informs you about your supposed prize sounds very enthusiastic. However, what follows is often a scam. They may claim that there are additional fees, taxes, or custom duties that must be paid before the prize can be awarded. Then they'll ask you for your personal information such as your credit card number or bank account details. Alternatively, they may ask you to pay with cash, gift cards, wire transfers, or cryptocurrency.
Unfortunately, there is no prize if you pay a scammer or share your personal information.
What you can do:
Keep your financial and personal information safe
It's important to keep your money and personal information safe by not sharing it with others. Additionally, it's vital to avoid sending cash or making payments with gift cards, wire transfers, or cryptocurrency.
Tell your friends
You may tend to overlook scams when you encounter them. However, it's possible that someone you know might benefit from a reminder about these scams.
Real contests and prizes:
Several reputable marketers and non-profit organizations conduct contests. However, there are certain factors to consider before entering or following instructions to obtain a prize.
Real sweepstakes are free and by chance
It's against the law to require payment or purchase something to enhance your chances of winning.
Contest promoters might sell your information to advertisers
By participating in a contest or drawing, you should expect to receive an increase in promotional mail, telemarketing calls, or spam.
Contest promoters have to tell you certain things
If you receive a call, the law mandates that the caller must inform you that participation is free, disclose the prizes available, their value, the likelihood of winning, and how to claim a prize.
Sweepstakes mailing must say you don't have to pay to participate
They cannot declare you a winner unless you've legitimately won a prize. If they include a counterfeit check in their mailing, it must clearly state that it is non-negotiable and lacks cash value.
If you spot a scam, please report it to the Federal Trade Commission at reportfraud.ftc.gov or call the FTC at 1-877-FTC-HELP.
The information provided in these articles is intended for informational purposes only. It is not to be construed as the opinion of Central Bancompany, Inc., and/or its subsidiaries and does not imply endorsement or support of any of the mentioned information, products, services, or providers. All information presented is without any representation, guaranty, or warranty regarding the accuracy, relevance, or completeness of the information.