How to Make the Most Out of Your Work Wardrobe [Infographic]
Dressing for a formal workspace can be stressful. Check out these staple pieces that will make dressing up feel effortless.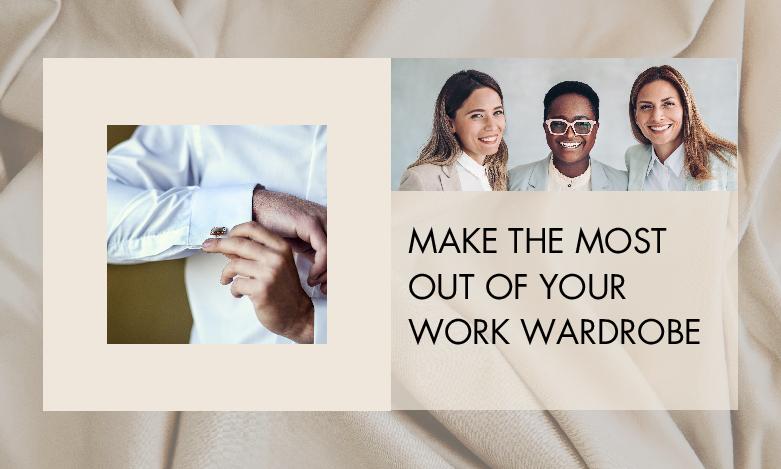 Owning wardrobe staples will save you money in the long run. It is important to build your wardrobe with neutral pieces you can pair with many other clothes you already own. Whether you are thinking about how to reapproach your work style, cleaning out your closet of unworn items, or looking to affordably update your wardrobe essentials, here are some basic clothing pieces everyone should have in their closet.

White-button up: Basic items that might be hiding in the bottom of your closet like a simple white-button down can refresh any outfit. No matter what your style is, a classic button-up will always come in handy and can be worn many different ways.
White Tee: You likely already own a basic white t-shirt. However, if you have to buy anything to add to your closet, buy a plain white tee. A basic white t-shirt is comfortable and is one of the most versatile wardrobe staples.
Sweater: A neutral-colored sweater can be worn in many ways and is a year-round staple. Wear sweaters over your shoulders in the spring, alone in the fall, and as a layering piece in the winter.
Blazer: Owning a neutral-colored blazer gives you the opportunity to dress an outfit up or down in all seasons. For a more casual look, pair a blazer with your favorite pair of jeans. For a professional look, wear a blazer with dress pants or trousers.
Go-To Denim: Everyone needs a pair of go-to jeans that are both comfortable and flattering. Check out different types of jeans to determine what type works for you such as straight leg or slim, high waisted or low waisted.
Go-to shoes: Having both a go-to pair of sneakers and dress shoes you can wear to work or a night on the town is a must to have in your closet. Sneakers provide practicality and comfort, while a pair of neutral colored dress shoes, boots, flats, or heels can be worn with many different looks.
Trousers or Dress Pants: Trousers make any outfit look effortless. You can wear a nice pair of trousers or dress pants with almost anything. Whether you have an interview or are going to your daily job, a versatile pair of trousers or dress pants are worth owning.
Accessories: Accessorizing is the easiest and most affordable way to make an outfit feel new again. There are many different options when it comes to accessories. Belts can be worn with trousers, jeans, or over blazers for a fitted look. A classic crossbody is a timeless investment you can wear with many different outfits. A pair of stylish sunglasses can make an outfit look chic, and you can wear jewelry with everyday clothes.
After going through your closet, if you find you do not own many wardrobe essentials, try visiting a thrift store or find ways to make a little extra money. This way you will have a timeless wardrobe you will never get tired of!
The information provided in these articles is intended for informational purposes only. It is not to be construed as the opinion of Central Bancompany, Inc., and/or its subsidiaries and does not imply endorsement or support of any of the mentioned information, products, services, or providers. All information presented is without any representation, guaranty, or warranty regarding the accuracy, relevance, or completeness of the information.