Tips for Refreshing Your Wardrobe on a Budget [Infographic]
Learn how you can have an amazing wardrobe without breaking the bank.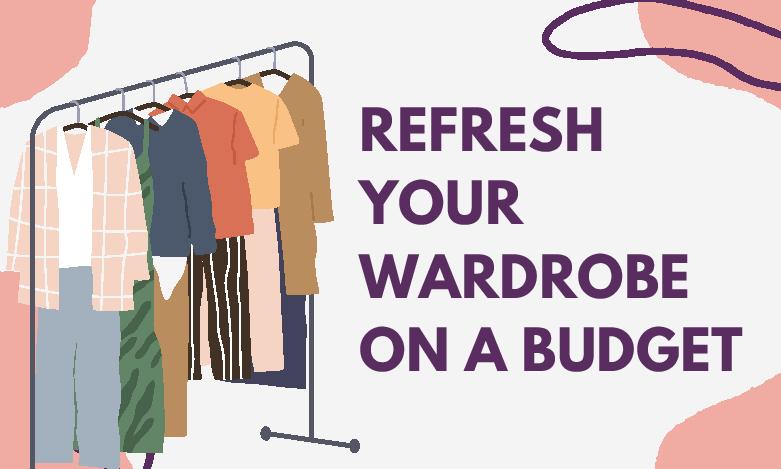 If you're on a tight budget but want to refresh your wardrobe, check out these budgeting tips before doing your shopping!
Step 1: Shop your Closet
Go through your closet and look for items you haven't worn in a while. You might be surprised with what you find! Make sure to also separate items you don't see yourself wearing in the future or clothes that don't fit.
Step 2: Sell your Clothes
After you have gone through your closet, sell the clothing items you want to get rid of. Selling your clothes online has never been easier, thanks to resale websites and clothing apps. Apps like Poshmark, Mercari and Depop allow you to make some extra cash from the comfort of your home. It is as simple as snapping a photo, adding a description, and shipping your items when they have been sold! Another option for selling your clothes is taking a bundle to your local resale shop.
Step 3: Write a List
Once you have sold some of your old clothes and have some extra cash for new ones, write a list and keep it simple. Think about essential items you could use in your wardrobe, such as neutral clothing items that can go with anything. This will prevent you from making impulse purchase decisions.
Step 4: Set a Budget
Set a budget for how much you're willing to spend on new items to add to your wardrobe.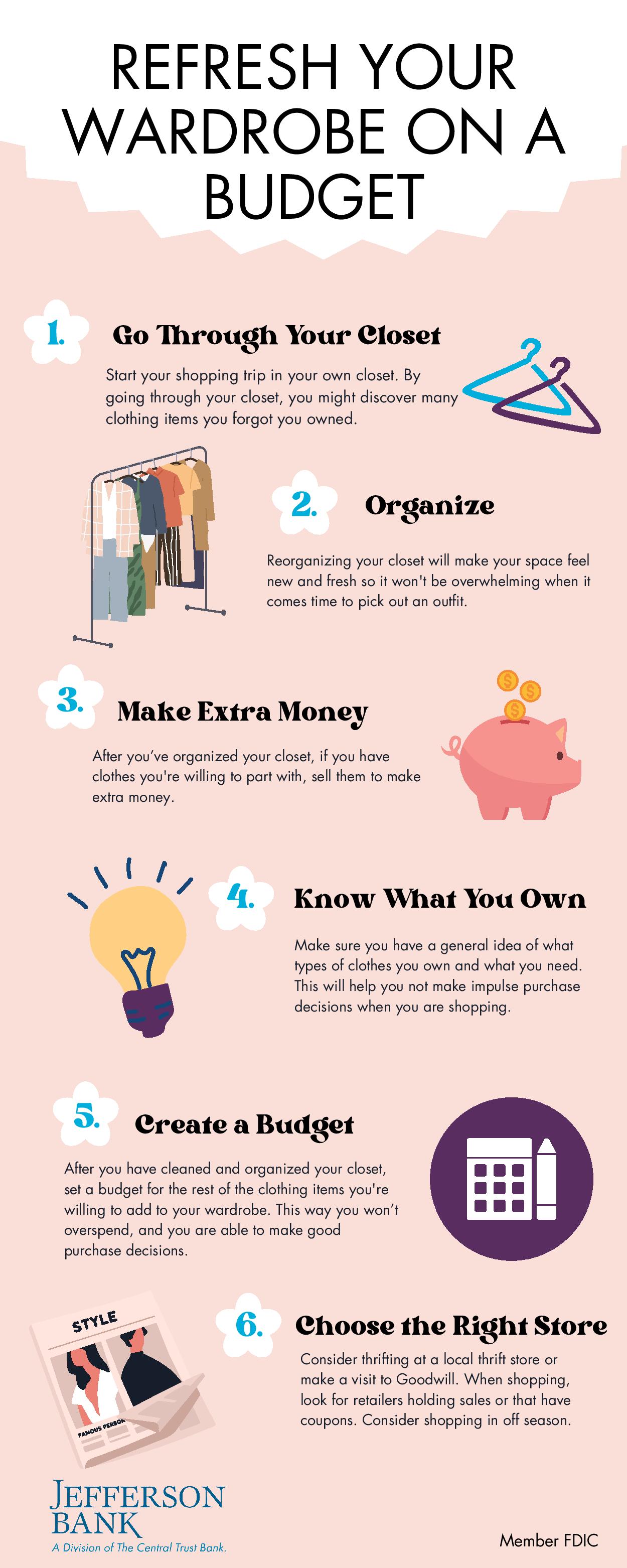 Now it's time to shop! Whether you're shopping in-store or online, here are a few tips.
Make the most of your money

If you're shopping online, before you submit your order be sure to search around online to see if there are any coupons you can use to save you a little money. Consider signing up for store emails, this way you won't miss out on any sales or coupons. Another tip to remember is checking out some of your favorite retailers on social media. Oftentimes, retailers offer special discount codes and exclusive updates on their social media pages.



Go Thrifting

It's not uncommon to find barley-used items or new items that still have their price tags on them. You might get lucky and find designer clothing in great condition for a cheap price. You never know what you're going to find at a thrift store, so make it a fun adventure!



Think About Your Options

Finally, before purchasing new pieces for your wardrobe, think about what you could wear with what you already own. Ask yourself if this item would go with at least three to five items you already own. Happy shopping!
The information provided in these articles is intended for informational purposes only. It is not to be construed as the opinion of Central Bancompany, Inc., and/or its subsidiaries and does not imply endorsement or support of any of the mentioned information, products, services, or providers. All information presented is without any representation, guaranty, or warranty regarding the accuracy, relevance, or completeness of the information.