How to Step-Up Your Recruiting Strategy for Your Business
You're not just filling open positions, but instead are hiring quality applicants who will benefit your company.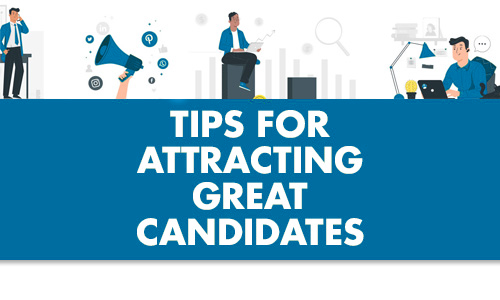 Hiring quality applicants can sometimes appear to be an intimidating task. Filling positions can be a challenge. Your company has high standards for employees, and you want strategy in your recruiting process. It could be time to refresh your hiring practice and adapt your recruiting strategy. You're not simply filling open positions, but instead are hiring quality applicants who will benefit your company.
Use these tips to step-up your recruitment strategy!
Improve Your Job Descriptions
First things first:

Tell everyone about your company. Let the applicant know what your business does and what you value. For example, a local coffee shop's introduction might be, "Carol's Coffee is locally owned and operated with two locations in Union, Missouri. We happily serve quality coffee to customers and are on track to open more cafes in Mid-Missouri." As soon as you've introduced yourself properly, let the candidate know about the open position.

Start with the basics:

Use an appropriate title for the position. Choose a job title for which candidates can easily seek. Using key words like Janitor, Forensic Accountant, or Auto-Mechanic will help your position appear in more job search results. Avoid naming job positions with in-house lingo. For example, do not name your office secretary an "office gatekeeper." Once you name the role, present the expectations and responsibilities in a transparent and engaging manner. A list of twenty "must-have's" can likely intimidate applicants. Consider simplifying your "must-haves" into three crucial characteristics you would like in your future employee. Last but not least, use wording that appeals to a variety of applicants.
Streamline Your Application Experience
Going through the morning paper to find job listings is a thing of the past. It's time to shake-up your recruitment strategy—but how? It's simple: follow the applicants! Job application websites such as LinkedIn, Indeed, and Glassdoor are great places to advertise open positions. These sites are just a few common websites that connect job seekers directly to employers. By posting to these websites, you will automatically alert potential candidates to your open position. They could even fill out their entire application on these job sites. Some applications, however, receive a better candidate response than others. Perhaps it's time to examine how job seekers respond to your application.
You can evaluate your job postings by monitoring your job application's "bounce rate." A bounce rate is the percent of people who either look at or begin your application and leave before submitting. People may abandon job applications for a variety of reasons. A common reason is if the application is too long. If the first application a candidate fills out is too complicated, consider simplifying it.
You can always send a second, more detailed application to your top candidates. In addition, keep in mind that job seekers often receive job notifications on their mobile devices. Make sure your application process is mobile-friendly and users can complete it on their mobile device. Neglecting mobile-friendly applications may result in your business losing diverse candidates. By not embracing the mobile application, you might decrease your candidate pool.
Optimize Your Online Presence
Recruitment statistics report that 75% of candidates will research a company's reputation before applying for a job opening [1]. Now is the time to ask yourself: who is managing your company's online presence? Are you taking proactive steps to produce quality content about your business? Your company's public image can benefit greatly from even the simplest online maintenance. It is essential to maintain your website so that it is easily accessible by users.
Make sure they can view your company website with ease. Quality web presence not only attracts customers, but also attracts job seekers. Nowadays, applicants want to have all the details of a job at their fingertips. This does not just mean a job description, but it also includes content that shows more than the position responsibilities. Company culture and employee standard web content will prepare prospect employees for the job in which they are interviewing. You may want to include employee testimonials and experiences on your website.
Your candidates will gain an insight into the daily lives of your employees. Not only will applicants be prepared for the job expectations, but they will understand your company culture. Your company website is a critical first impression for applicants. Get creative in showing your web presence! Showcase your company's many benefits on your website. A web presence is essential, but data shows that social media is just as important.
"Social media usage is one of the most popular online activities and in 2021, 82% of the population in the United States had a social networking profile" [2]. As a company, you must introduce yourself as a relevant brand who interacts with consumers in one of the most effective ways: social media. Using an approachable tone in posts will make your brand appear welcoming and inclusive. Share and employee photos with people of different genders, ages, and races.
Avoid using wording that only appeals to one segment of the population. Using social media, your company can reach an enormous number of potential candidates. Display your company's greatness! Make sure the public knows how well you treat your employees! By posting content on their daily feed, job seekers will learn what your company has to offer. These posts could possibly excite someone into joining your team. By consistently sharing the countless positives of your business, it will be hard for job seekers to overlook your company.
Offer A Competitive Employee Benefits Plan
It's time to spruce up your current benefits plan! As an employer, you need to make sure that your employees are happy and healthy. A standard benefits plan won't set you apart from your competition. Basic benefits include retirement, health, and insurance plans. These benefits are expected to be provided to employees. Research different variations of these plans so that you can provide employees with the best option. Make your company stand out by upgrading your basic benefit offerings!
Consider Offering a More Flexible Work Schedule
We are now looking at the next normal for Human Resources (HR). Strategies for recruiting and retaining the best talent for your business have changed. Recent times have proven you can do business from home. Consider utilizing remote-working technology and providing remote, or hybrid, working options. Adopt training methods that will adapt to remote-working environments. If you are not able to offer remote work, no worries! There are endless benefits your business could offer. Some of the other unique benefits could include special training, family benefits, student loan repayment, service events, diversity initiatives, etc. Many companies already offer these benefits, but they may not be promoting them. If this is something your business offers, now is the time to tell prospective employees!
Make it a priority to highlight your company's numerous benefits -- Consider adding an employee benefits website page. Job seekers can gain an understanding of your company's many benefits right away by visiting this page. Providing employees with both professional opportunities, as well as benefits outside of work, is very important for any business.
Form A Positive Company Culture
Picture this. It is the end of the interview. You've asked the applicant if they have any questions. Without missing a beat, the applicant looks at you and asks, "How would you describe your company culture?" It is apparent applicants want more than just a job description. It is important to them to know if the company is in line with their values. It's no secret that job seekers value company culture, but how can you communicate it effectively to candidates?
You should start by assessing your organization's culture. Ask yourself "Does our culture reflect the type of candidates I'm looking for?" "What are some ways we can improve the culture of our company?" "How can we better communicate our values to potential employees?" Transparency is critical for the improvement of company culture. Make use of your resources and ask your employees for their input. The employee survey can provide your business with the insight it needs to build a positive company culture. Employees and applicants will be drawn to companies with a culture of communication, inclusion, opportunities, and transparency.
Sources:
[2] Social media usage in the United States, Statista
The information provided in these articles is intended for informational purposes only. It is not to be construed as the opinion of Central Bancompany, Inc., and/or its subsidiaries and does not imply endorsement or support of any of the mentioned information, products, services, or providers. All information presented is without any representation, guaranty, or warranty regarding the accuracy, relevance, or completeness of the information.