Tips to consider when back-to-school shopping
With school just around the corner, it's time to start thinking about back to school shopping. Not only does your child probably need new school supplies, but also new clothing for the school year too. Here are some tips on what to purchase for sending your little one (or not so little anymore) back to school.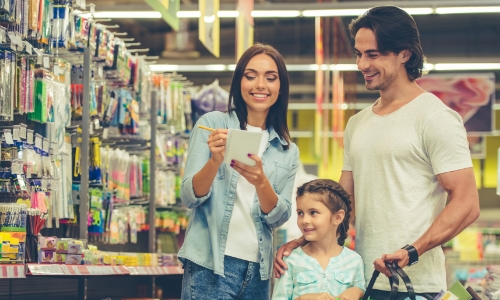 1. Make a plan before you go to the store. Have your child go through their closet to try on their clothes from last year and get rid of what doesn't fit and what they no longer wear. If you have smaller children, go through their closet with them. Make a list of what needs to be replaced, or a new item they might need. Check to see if older siblings have any hand-me-downs for younger siblings to use before making your final list [1].
Similarly, make a list for school supplies before you head to the store. Schools will have lists at most supercenters of what each teacher wants their students to bring to school. Stick to this list and don't feel like your children need those glitter pens.
Here is a list from Forbes for what you do NOT need to buy for your kids going back to school [3]:
Mechanical Pencils
Clipboards
Note cards
Packs of Loose-leaf Paper
Whiteout
Big bulky/rolling backpacks
Fancy versions of basic supplies like gel or glitter pens
Candy or sugary snacks
2. Take advantage of your states "tax-free" days. Last year the National Retail Federation said that the average amount of money expected for parents to spend on back-to-school supplies was $630.36 per child [2]. This is a large chunk of money, especially if you have multiple children. To keep costs down see if your state offers "tax-free" days.
If you can, go into the store you plan on purchasing school supplies from ahead of time and map out where everything you need is located. If you do this, you can zoom in and out and will be saving yourself a time and stress when shopping in the large crowds that come with tax-free days.
Back-to-school shopping can be fun for kids, and if planned ahead of time, less stressful for parents. Have a list of exactly what you need to buy ahead of time and don't deviate from it. Enjoy having your house to yourself during the days again, and get ready to hear all about their first day of school when they get home!
Sources
[1] Do It Now! Tips to Get Ready For Back-To-School, Organized Home
[2] After splurging in 2014, families trim back-to-school spending for 2015, National Retail Federation
[3] Don't Buy These 10 Back-To-School Items, Forbes
The information provided in these articles is intended for informational purposes only. It is not to be construed as the opinion of Central Bancompany, Inc., and/or its subsidiaries and does not imply endorsement or support of any of the mentioned information, products, services, or providers. All information presented is without any representation, guaranty, or warranty regarding the accuracy, relevance, or completeness of the information.