10 money lessons for 20-something year olds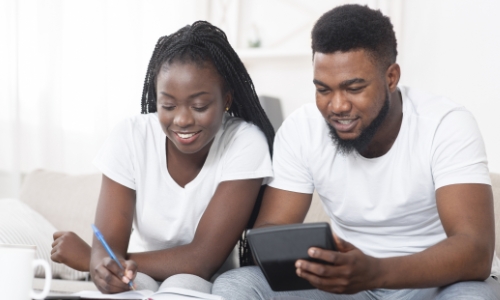 There's always more to learn when it comes to money.
The truth is, no one knows everything about money, especially in their 20s. At this point in their lives, young adults could use all the money advice they can get.
If you're in your 20s, you might find the following money lessons quite helpful:
1. You will mess up
No one is perfect.
As much as we want to stick to our budget and goals, events will occur that detract us. That's OK, and it's important to realize you'll mess up at some point. Common missteps might be overdrafting on your checking account or missing a credit card payment.
The key is to identify your mistakes, correct them before they worsen and prepare to cover future blunders, like building a stable emergency fund.
2. Speaking of savings…
There's no way around it: You need to save money.
Your 20s are the perfect time to start saving for retirement in about 40 years. Do this by investing in a 401(k) and/or Individual Retirement Account. You won't see this money for decades, but it'll allow you to retire comfortably.
Similarly, save money for emergencies and other financial goals, like a summer vacation. Set attainable and lofty ambitions and work toward meeting them.
3. Tackle adulthood head on
According to U.S. News & World Report, your 20s are an ideal time to experience the ups and downs of finances. These swings of emotion can often be attributed to the fact that for many 20-somethings, they are truly on their own for the first time.
Use these years to embrace your financial responsibility. Find out what works and what doesn't. For example, you can play around with different budgets to find the sweet spot so you can enjoy life without being completely frugal.
4. Create monthly and weekly budgets
Budgets help you know where your money is going. Create a budget at the end of every month for the upcoming 30 (or 31) days. Write down due dates for all of your bills and set aside money to go toward savings.
You can take budgeting one step further by creating weekly budgets. Set these up every Sunday to help you map out an upcoming week. If you notice you've been overspending, a weekly budget can help you cut back for a few days.
5. Limit credit usage
Credit cards are handy, but you need to limit their usage. When paychecks are tight, it's easy to swipe a card so you can buy groceries and eat dinner for the week.
However, if you aren't careful and don't pay off balances in full, you'll quickly find yourself in debt and your paychecks will be squeezed even further.
If you don't have the money in your checking account, don't use credit. Additionally, avoid opening new lines of credit even if it's to take advantage of a promotional offer. You can easily find yourself in debt and damage your credit score.
6. Sign up for insurance
Just because you're young doesn't mean you're invincible. You should sign up for medical, automobile, disability and renters insurance.
"One of the worst money mistakes you can make is neglecting to sign up for insurance."
According to Business Insider, one of the worst money mistakes you can make is neglecting to sign up for these types of insurance. If anything does happen, such as a trip to the hospital, the cost will be higher if you don't have insurance than if you were enrolled in a medical plan.
Take advantage of benefits programs from your employer as well. Additionally, look for ways to bundle insurance plans to potentially save money and still receive coverage.
7. Schedule some down time
You don't always need to be out and about to enjoy yourself. If you constantly try to keep yourself busy by visiting stores or eating out, you're likely not sticking to your budget.
Take some time to sit back and relax. You'll catch your breath and still be able to find enjoyment from reading a book, watching a television show or walking around a park.
8. Determine needs and wants
Whenever you shop, you should determine your needs and wants. This is a good way to ensure you don't overspend and only buy things you need. You can then make a savings goal to purchase items on your want list.
9. Discuss your finances with a loved one
There's a good chance you'll meet someone in your 20s you'll enter a long-term relationship with and possibly marry.
If you find yourself in a serious relationship, you'll want to discuss your finances with your partner. It's important for both of you to know each other's amount of debt and income. You'll also need to discuss whether the two of you should maintain separate financial accounts or open joint ones.
This topic represents a serious but ultimately helpful conversation, as it lets you know if you're financially compatible with your partner.
10. Expand your financial knowledge
Never stop learning about money and the world of personal finance. Learn as much as you can about mortgages, personal loans, credit cards, compound interest and more.
In-depth knowledge will help you make smart financial decisions while you're young that will eventually pay off as you age.
Your 20s are an exciting time to experience everything life has to offer. But you also have to use these years to manage your finances and create good financial habits you'll carry for the rest of your life.
The information provided in these articles is intended for informational purposes only. It is not to be construed as the opinion of Central Bancompany, Inc., and/or its subsidiaries and does not imply endorsement or support of any of the mentioned information, products, services, or providers. All information presented is without any representation, guaranty, or warranty regarding the accuracy, relevance, or completeness of the information.