5 Signs Your Business is Ready to Expand
You have a positive cash flow and you've successfully opened and managed your first business. What comes next?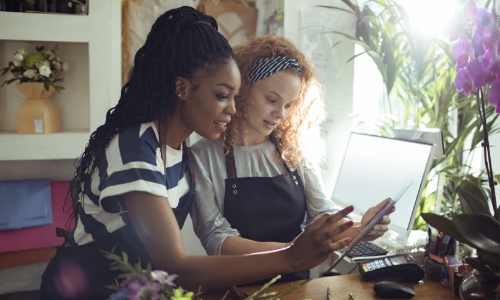 For many business owners, once they've reached financial success with their first business the next challenge is growth. Expansion is a very extensive and expensive project; not only are you trying to maintain your first location, you're also trying to build a new location from the ground up. So, how can you be sure expansion is a step you're ready to take?
Here are some signs that your business is ready for the next step!
Proof is in the cash flow. For any business owner, maintaining a positive cash flow is key to success. Of course, at the very start of any business it is difficult to make that climb and gain the ability to predict the ebbs and flows of your business. But given time, and consistency, you will be able to predict your cash flow's lows and highs, allowing you to work towards sustaining a positive cash flow. Once your business starts generating revenue and outstanding debts are under control, the next step is making your hard earned money work for you. With your payments under control and your cash flow in the positive, investing in a second location is the next step!
Product lines are proving to be perfect. Before opening a second business location, you want to make sure that the first is 100 percent manageable – this means no weak links that will come back to haunt you later. Examine your product lines and review any that aren't performing. When replicating your business, you want to copy the best of your business. Don't open a location that carries over the faults and mistakes of the first. Once your product lines are solid and meeting expectations across the board, you'll know it's the right time to expand your winning business model.
High, too high, in demand. Customers are giving your business a run for its money. Week in and week out your business meets and exceeds your performance expectations for the quarter. When your products and services are in high-demand opening a second location will not only expand your footprint, but alleviate some of the pressure on your first location. You can ensure this is the right move when feedback is consistently positive and you know that your loyal customers will continue to not only return to your first business, but contribute to the second's income as well.
Strong team = strong business. There's more to a business than the brick and mortar that surrounds it, really it's the people involved that make your business work. When you're considering expansion, not only do you need to concern yourself with location, but also expanding the staff to meet the man-power that your second business will require. Starting from scratch when it comes to staff can be a large setback for many owners, after all, training employees and establishing company standards takes time. As you start to plan opening a new location create a staffing plan that will meet the requirements of the new spot. These are some of the questions you will need to answer:

Do I need the same amount or more/less workers at my new location?
Which employees from the old location will move to the new?
Will I expect employees to take shifts at both locations?
Who will handle management at the new location?
When will I start hiring for the new team?

Once you have these questions answered, and the logistics of staffing between your two locations figured out, you can begin hiring and planning for the opening of your new place of business.
You're replication ready. The whole reason you're able to expand your business is because the first model worked so well. With the opening of the new location you'll want to copy the success of the first. This means reviewing your original business plan and revising it to fit your new location, correcting any mistakes or errors in the first, and ensuring it is up to date. Beyond staffing, you will need plan for any new equipment that needs to be ordered, the marketing strategies to implement, the logistics of vendor delivery, and more! Your success lies in the details, ensure that your new location helps, and not hurts, your business goals.
Opening your first business was difficult. You might hope that opening the second location will be easier with your prior experience, but unfortunately it will likely be twice as hard. Plan ahead thoroughly and ensure that you are ready for the expansion. Once plans are in place, you can meet and exceed your business goals!
If expansion is something your business ready for, we are here to help! Jefferson Bank has the financing strategies, and the people, to help you open the doors of your new business.
The information provided in these articles is intended for informational purposes only. It is not to be construed as the opinion of Central Bancompany, Inc., and/or its subsidiaries and does not imply endorsement or support of any of the mentioned information, products, services, or providers. All information presented is without any representation, guaranty, or warranty regarding the accuracy, relevance, or completeness of the information.