Tips to Conduct Your Mid Year Business' Review
It's never too early in the year to review how your business is doing. Gather your management team, dedicate some time, and examine how your current operations are helping you achieve your business' goals.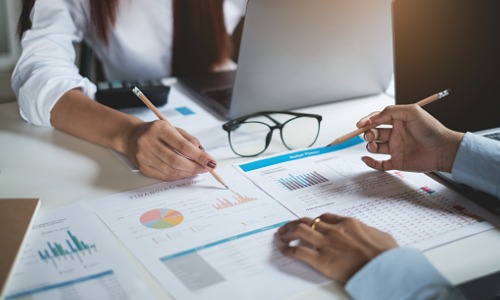 Preparation Tips
If you tackle your review tasks mid-way through the year, you may thank yourself down the road. A mid-year business review requires a considerable amount of time dedicated to analyzing the ins and outs of your business operations. Oftentimes, businesses can set aside more time during the summer months rather than at the end of the year.
Before assembling the team, this review may take some preparation. For example, managers may want to reflect on their personal performance as well as their department. Consider challenging your team to gather any relevant data like sales numbers or budgets. Having this information will help create a thorough and successful review.
A mid-year business review is also most effective when there are a variety of viewpoints given on your business. Consider bringing in representatives from different departments. In a smaller business, you may not have many different divisions in your business. If this is your circumstance, consider bringing in an outside expert who can help your team overcome certain operational challenges. This range of perspectives can provide deeper insight to how to best conduct this meeting.
Start with Focusing on the Positive
Start off your meeting on a positive note. Before you begin to focus on the shortfalls of your business, identify where it is succeeding. On a personal level, ask each manager to highlight where they have excelled. Encourage them to brag on their team and share what they personally learned throughout the year.
After spending time on the manager's experience, transition the meeting to focus on the big picture. See where revenue has increased, where your business gained clients, and where you decreased expenses. Ask your team why they think these successes took place. Highlight the action steps that led your business to success.
Is there is any common thread among successful teams? Take time to dig-in and see why these results happened. Are these departments being offered more incentives? Are these teams more collaborative? Does this team conduct weekly meetings? Learn why they have found success and how you can implement these actions into other departments.
See Where You Can Improve
Now is the time to bring in data and analytics. There are multiple factors of which your business can examine. For example, look at employee turnover rates. Find out the average cost of recruiting and making a hire. See where you can revamp your hiring process. Can costs be decreased? Furthermore, gather expense reports and budgets from each department. Consult with your business' accountant to thoroughly understand these reports.
Employees - Ask your managers where they are struggling to unify and motivate their employees. Compare and contrast their management styles to see if there's a way to adjust their approach. Find out where your team can improve employee engagement. See how your business can increase employee loyalty. Are there trending benefits your business should consider offering to employees? Learn if your business is attracting the best talent that will benefit the future growth of your business.
Expenses – According to Forbes, "most businesses can cut 10 to 20 percent of expenses overnight." These unnecessary expenses can include unneeded subscriptions, excessive membership fees, office parties, traveling to irrelevant conferences, or any other expenses of which do not provide return. Take a hard look at your business' annual expenses and see what you can cut. By finding areas to decrease excessive spending, you can accelerate your business' cash flow.
Examine Your Objectives and Goals
At this point in the meeting, take time to recognize what your business accomplished. Review the projects your company completed during the year. Check if these projects are aligned with your business's goals. Determine what your team could have done differently in order to make these projects more goal oriented.
For example, let's say your bakery wants to increase wedding cake sales. If your business ran a marketing campaign targeted towards gaining bookings for birthday parties, this project would not align with the main goal. Evaluate your current progress and business initiatives. Your business should avoid repeating projects that do not align with your goals in the upcoming year. By cutting unnecessary projects or adjusting their direction, your business will be more unified in accomplishing its primary goals.
After reviewing past projects, break down your goals and develop a realistic action plan to achieve them. Decide if certain goals are still needed. If these goals do not meet your standards, you can eliminate them from your list. Unneeded goals waste time, money, and employee focus. In order to decide whether or not goals are needed, consider these questions posed by a Bigger Pockets contributor:
Are you on course to achieve this goal by the end of year?
What has been your progress so far?
What has been working?
What has not been working?
What adjustments need to be made in order to achieve this goal?
What, in your thinking, do you need to change?
What, in your behavior/actions do you need to change?
What resources, people, and outside support can help you?
Goal Maintenance
After you figure out what you need to change and the plan of attack, you need a strategy for implementing it. Many have experienced how easy it is to forget everything you set out to accomplish after the meeting concludes. In order to remain on-task, consider offering a monthly or weekly meeting to discuss progress.
When dealing with projects in the workplace, continue to ask the key questions to see whether or not projects are pursuing the ultimate goals of the company. Encourage managers to remind employees to break down goals into manageable objectives that can be met in the day-to-day. Create a system where employees keep track of the objectives they are achieving to provide a sense of direction and accomplishment. Breaking down goals into steps can be less intimidating and can make tracking progress easier.
End on a Positive Note
After the grueling experience of analyzing each shortfall of your business, end your meeting on a positive note. Wrap up the meeting's biggest takeaways. Sum up the goals into simple steps each manager can implement immediately. Ask each manager to share what they are optimistic about in their department. Make sure to encourage your managers since they will be the direct line of communication with your employees. Lastly, share all key information with the members in the meeting via email to keep the information fresh in their mind. After conducting a mid-year review, your team can head into the second half of the year confident you will be prepared for the next annual review.
The information provided in these articles is intended for informational purposes only. It is not to be construed as the opinion of Central Bancompany, Inc., and/or its subsidiaries and does not imply endorsement or support of any of the mentioned information, products, services, or providers. All information presented is without any representation, guaranty, or warranty regarding the accuracy, relevance, or completeness of the information.