Trending Benefits to Help Attract and Retain Quality Employees
Recruiting and retaining quality employees can be challenging. As the competition for skilled workers is growing, employees are beginning to demand more benefits. Your current benefits may need to be reexamined to attract top talent. Find out which benefits may give you a competitive edge when hiring.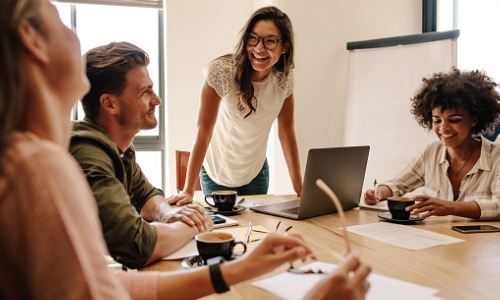 Ensure Your Employees Understand Their Benefits
It's crucial for employers to offer the essential benefits of health insurance, retirement, and paid time off. You can distinguish your business from the competition by providing additional benefits. The information about your company's benefits should be clear and accessible to employees and potential employees, regardless of what your business offers.
Although many companies provide competitive benefits, few provide educational resources for utilizing these benefits. Revamp your hiring process to include transparent benefit information. Consider organizing a meeting or making a video explaining the benefits you offer and how employees can use them. Make sure your company benefits are accessible and up to date. It may be this transparency of your benefits that persuades them to choose your company over competition.
It is beneficial for employers and employees when there is clear communication about benefits ranging from retirement plans to student loan repayment programs. Depending on the employee's lifestyle, these communications may be appealing. Additionally, employees can receive benefit communications during the year. For example, your company may remind employees about their unused sick days and paid time off. A transparent approach to benefits can open numerous opportunities for your company to engage current employees and attract prospective employees.
Childcare Provisions and Services
A limited availability of quality childcare results in the misallocation of thousands of dollars every year. Trying to find a reputable and reliable childcare provider can cost both parents and employers money year after year. The cost of childcare can reach thousands of dollars a year for many parents. Parents may have to use unpaid time off to care for their children when childcare providers cancel or are unpredictably closed. Missing work can result in a loss of a day's wages or any number of penalties. Employees and employers are both adversely affected by this lack of work. In response to losing billions every year to childcare challenges, employers are taking action to address this problem.
To assist employees in managing their childcare, a variety of indirect measures are available. These include increasing employee awareness of current time-off benefits. Education like this allows parents to better plan for the needs of their child. Additionally, there are numerous direct efforts to assist employees in their search for childcare. Many companies provide childcare in the office. Childcare options on-site prove to be an excellent way to recruit and retain top talent. Some employers even offer financial assistance to their employees so that they can afford reliable and quality childcare providers.
There are even businesses that go beyond offering traditional childcare. For instance, some offer tutoring services and test preparation. Remote learning has made these benefits increasingly popular.
Increased Mental Health Focus
The health and well-being of employees is one of the main concerns of business owners. Employers are increasingly offering mental health aids to their employees. Benefits can include health insurance, counseling, and the ability to take a mental health day off. The range of benefits may vary by company. Mental health benefit provisions have been a significant demand of the workforce. In order to recruit and retain the best talent, consider offering mental health benefits.
As mental health issues have become more prevalent among the workforce, this demand has only continued to grow. According to Harford's 2021 Future Benefits study reports "70 percent of the employers now acknowledge that employee mental health is a serious workplace issue." Moreover, 31 percent of the employers questioned said the strain on employee mental health is having a serious "financial impact on their company." These statistics clearly demonstrate mental health affects both employees and employers. Perhaps it is time to rethink health plans and include mental health benefits.
Repayment of Student Loans
As college debt continues to increase, employees are increasingly requesting that employers provide this benefit. In spite of this, many businesses don't provide employees with any assistance with student loan payments. Providing this employee benefit can make your company stand out from competitors.
As the demand for this benefit increases, it is anticipated that employers will be able to choose from a variety of student loan repayment programs for employees. Research firm YouGov found that "nine out of ten college students with student loans are looking for a company with a student loan perk." In addition, YouGov also found "six in ten working adults with student loans would consider switching companies to gain a student debt employee benefit." By offering this benefit, you may increase the retention of your talented employees.
Student loan repayment programs are becoming more common. There are multiple student loan repayment systems an employer can decide to offer. One option is contribution matching programs. An employer will match the contribution partially or as a whole depending on what the employee contributes.
A different method allows employees to select from a variety of company benefits and decide on which ones they want to have. If they select a student loan repayment program, they give up a different benefit program offered. As an alternative, your small business could offer monthly flat contribution. The company will contribute a set amount each month towards student loans – this amount can range from $100 to upwards of $1,000.
A 401(k) match program is another option for student loan benefits. This option is works well for employees struggling to know when to save for retirement and when to pay off debt. By allocating money in this way, employees can both save and pay off debt. Employers contribute the same amount to a student loan program as they do for 401(k) contributions.
The information provided in these articles is intended for informational purposes only. It is not to be construed as the opinion of Central Bancompany, Inc., and/or its subsidiaries and does not imply endorsement or support of any of the mentioned information, products, services, or providers. All information presented is without any representation, guaranty, or warranty regarding the accuracy, relevance, or completeness of the information.