The benefits of having a hobby later in life
After spending most of your life catering to other people's needs, you've realized you want a hobby yourself. Whether you're already retired or preparing for it, picking a hobby can be beneficial for you in more ways than one.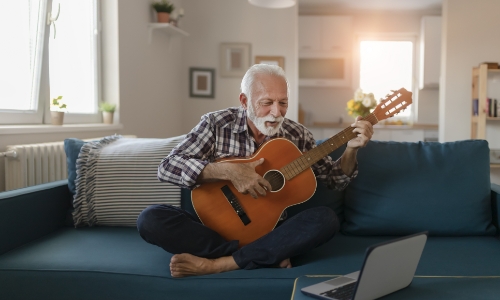 1. Physical activity leads to better health.
If your hobby includes some sort of physical activity, it could lead to improvement of your overall health. Once you get out of the daily grind of working, it can be hard to find fun, active things to keep your body in tip-top shape. You may feel like you're not in the same physical shape as you used to be, but even a daily walk in the park has its benefits. Daily physical activity will also prevent or delay certain diseases [1].
2. It will sharpen your mind.
As you grow older, it's important to keep your brain engaged. The start of the natural decline in brain power begins around retirement age [2]. By keeping your mind going, you can delay this process and keep your thinking sharp. A few hobbies that are especially beneficial for your brain power late in life include participating in a book club, playing chess, and journaling every day.
3. Productivity is good for those used to always going.
Some people revel in the hustle and bustle of working every day. For those people, it can be a rough adjustment going from working every day and not having to work at all. During this time, it's especially helpful to have a hobby to fall back on. This will fill any void that you feel after leaving the job market.
4. Social connection promotes happiness.
If your hobby involves social interaction, that's an added bonus. Keeping your level of social interaction high later in life can have a high payoff [3]. Going days without social interaction can be harmful for individuals of any age, not just older generations. Call your peers and see if they want to start up a bi-weekly card game, or volunteer at a local not-for-profit.
5. It will relieve some stress.
Not only will you be participating in something you enjoy, but hobbies can also be a great stress outlet. To keep that blood pressure down, try your hand at gardening, scrapbooking, or photography.
[1] Benefits of Exercise, NIH Senior Health
[2] Hobbies can boost brain power in retirement, The Daily Mail
[3] How Social Connections Keep Seniors Healthy, Berkeley College
The information provided in these articles is intended for informational purposes only. It is not to be construed as the opinion of Central Bancompany, Inc., and/or its subsidiaries and does not imply endorsement or support of any of the mentioned information, products, services, or providers. All information presented is without any representation, guaranty, or warranty regarding the accuracy, relevance, or completeness of the information.