Wedding Rehearsal Ideas to Help You Save [Infographic]
Looking to plan a budget-friendly wedding rehearsal dinner? You're in the right place!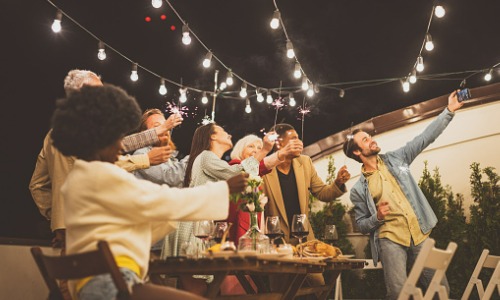 Planning for one special day can take months, or even years. From ordering flowers to trying on dresses and tuxedos, tasting desserts, and exploring venues, the checklist can seem never-ending. It's easy to get caught up in the details of the big day and forget about the wedding rehearsal.
Although planning a wedding can be exciting, it can also be quite costly and require a significant amount of time. However, the same cannot be said for planning your rehearsal dinner, as it doesn't necessarily have to be either time-consuming or expensive.
You can still have a wonderful wedding rehearsal dinner without compromising the celebration. By following these tips, you can create a memorable rehearsal dinner experience without going over your budget.
Limit Your Guests

If you want an upscale rehearsal dinner but wish to stay within your budget, consider limiting the number of guests you invite. Traditionally, all out-of-town guests are invited to the rehearsal dinner, which can quickly become expensive. To keep costs down, limit the guest list to your wedding party and immediate family members. To include out-of-town guests, arrange a meeting place, such as a hotel or bar, after the dinner.

Barbeque

If you're tying the knot during the warmer months, hosting a backyard barbeque is an excellent option. This approach eliminates the need to rent a venue, enables you to manage the expenses related to food and drinks, and allows for more flexibility.

You can include a hot dog and burger bar or serve ribs and sides. This is an easy option and gives you plenty of time to prepare. You could also set up backyard games like horseshoes or corn hole for you and your guests to enjoy!



Enjoyable (and affordable) Restaurant

Opt for a budget-friendly venue like your favorite restaurant. Consider holding the dinner on a weeknight, as some restaurants offer discounts during weekdays. Choose a venue that offers a set menu, family-style, or buffet-style meal to give you more control over the menu and cost.

Don't Feel Restricted to an Evening Event
Brunch
Preparing breakfast foods is generally easier and more cost-effective than plated dinners. You can opt for a relaxed breakfast buffet or head out to a more formal dining environment. If you choose to host a brunch, consider relying on foods that you can prepare before your guests arrive such as a buffet station. You can also get creative by displaying a colorful wall of donuts!
Picnic
Consider holding a picnic-style rehearsal dinner at a nearby park, lake, beach, or community center. Applying for a permit is usually a simple and inexpensive process. You will have the flexibility to create an elegant or laid-back atmosphere, depending on your preferences.

Keep it simple and serve finger foods, mini desserts, tea and lemonade. Or make it easy on yourself and order your pizza from your favorite pizza restaurant. If you have some room in your budget with extra money to spend, another option is renting a food truck. Talk to the food truck owner about how much you want to spend and have them come up with custom meals or snacks that fit within your budget.
The main focus of a wedding should be on celebrating the love between you and your partner, rather than spending large amounts of money. If you want to extend your budgeting efforts to your big day, explore tips to help you stay within your budget.
The information provided in these articles is intended for informational purposes only. It is not to be construed as the opinion of Central Bancompany, Inc., and/or its subsidiaries and does not imply endorsement or support of any of the mentioned information, products, services, or providers. All information presented is without any representation, guaranty, or warranty regarding the accuracy, relevance, or completeness of the information.